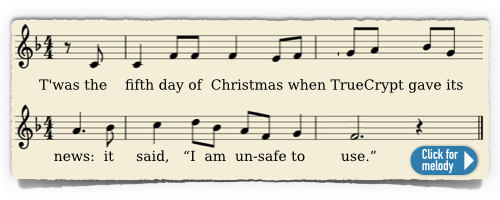 Here's the melody – click to sing along!

2014 will be recalled as a year in which a trusted and widely used piece of software was abruptly declared to be insecure, probably by its own authors, and withdrawn overnight.
It was also the year that Windows XP support finished.
But unlike XP-ers, who had seven years to prepare themselves, TrueCrypt users got little more than a mysterious Dear John letter on the product's download page:
WARNING: Using TrueCrypt is not secure as it may contain unfixed security issues
Denial, anger, negotiation, melancholy and (of course) conspiracy theories followed. Was it a hack, a failed audit, a falling-out amongst erstwhile friends, or the unseen hand of some three-letter agency?
Or was it all because of XP?
True mystery of the disappearing TrueCrypt disk encryption softwareAnd for your chance to win an exclusive, limited edition, Naked Security T-shirt, work out the answer to Paul Ducklin's brain teaser below…
This December we're celebrating Christmas by giving away five of our much-coveted, limited edition Naked Security T-shirts every day for 12 days!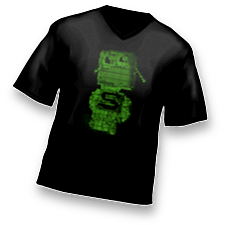 We've selected twelve of the most interesting stories from 2014 and we'll be writing about one of them each day.
All you have to do to win a T-shirt is read the story and answer the question.
We'll pick 5 lucky winners out of a hat (OK, /dev/urandom) each day and those who answer the most questions correctly over the 12 days will be entered into our grand prize draw for a goody bag of geeky gifts valued at up to $500!
We need to know your email address so that we can contact you if you've won. When we contact you, we'll need your T-shirt size, a delivery address and a contact number so we can ship your prize. We won't use any of your personal details for anything other than this competition.
Entries close at 23:59 Pacific Standard Time (UTC-8) each day. Sophos staff, those pro­fessionally connected to the company, and their families, are welcome to submit answers for fun, but can't win. T-shirt styles may vary from those depicted. Sophos's decision is final, and so on. Please read our official competition terms and conditions.
What was Day 4's answer?
On Day 4, we asked you to work out, to the closest whole degree, the longitude of the place where the Ikee virus was written.
Ikee was the first ever true iOS virus, by which we mean malware that spreads itself.
Its author was from Wollongong, a port city just south of Sydney, New South Wales, Australia.
Many online services will tell you that The Gong, as it is known, lies about 150°45′ East of Greenwich.
We asked for "the closest whole degree", so the correct answer was 151 degrees East, or equivalent words.
By the way: we're not accepting 150.8, or 150°45'36", or anything else like that, even though you may consider such an answer more precise, because the instructions about rounding were perfectly clear.
Also, we're not accepting 34 degrees South as an answer.
We're sorry to have to tell you that's a measure of latitude – the lines that go across a conventional map and show you how close to the equator or to the poles you are. (Tip to remember the difference: think of the word "flatitude.")
Mixing up latitude and longitude can ruin your commute, so watch out for that.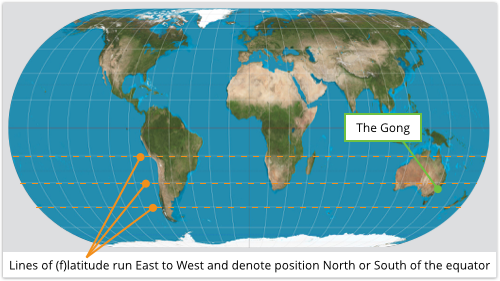 By the way, we are accepting an unadorned 151 as correct.
It's good practice to be explicit about whether you mean East or West, if only to avoid confusion (151°W is about where you'll find Hawaii).
But, by convention, longitudes East of Greenwich are positive because your clock moves ahead as you travel East, and numbers that have neither a "+" nor a "-" in front are considered, by convention, to be positive.
Now have a go at Day 5's puzzle!