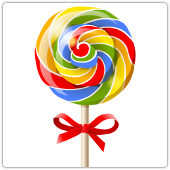 Google has recently published Android 5.0.1.
This is a point-release update for the Lollipop 5.0 version of Android.
The 5.0.1 version fragments the Android ecosystem yet further, even amongst recent versions of Google's own devices – the ones many developers buy because they are unlocked, officially hackable, and typically get updates first.
Of new and newish devices, the Nexus 9 and Nexus 10 tablets have factory images for 5.0.1.
Lollipop 5.0.1 is also available for the Nexus 7 2013 Wi-Fi model
But the Nexus 4, 5 and 6 phones are still at Lollipop 5.0, together with the Nexus 7 2012 Wi-fi model.
Meanwhile, if your Nexus 7 has mobile network support (3G for the 2012 model and LTE for the 2013 version), you're stuck back at Android Kit Kat 4.4.4.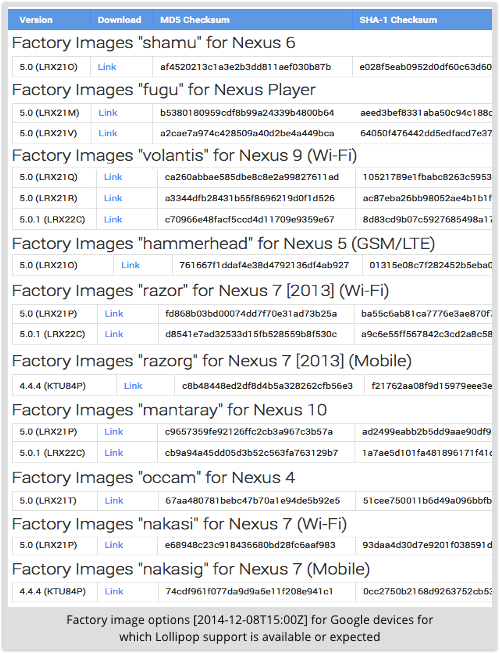 Confused?
You should be – but at least there's an official one-stop Factory Image firmware page for Google's own devices.
Indeed, downloading and keeping a copy of the latest Google firmware image for your Google Android device is handy because you can use it to recover from ill-fated experiments to try out alternative firmware builds.
Alternative firmwares start with the Android Open Source Project (AOSP) and mix in their their own selection of third-party apps, user interface tweaks, GUI themes and more.
Of course, alternative firmwares are a potential security risk, because it can be hard to judge the competence (or the trustworthiness) of the person who "cooked," or created, the firmware image you want to use.
On the other hand, alternative firmwares may be your only way to get Android updates, including security fixes, if your vendor lags behind.
And Google doesn't set the best example in updating its own devices, including having older devices on the latest version and the latest devices on older versions.
So it's hardly surprising that Google's Android partners don't feel a lot of pressure to keep their customers current, and concomitantly understandable that many users turn to the "ROM cooking" communities of firmware builders for updates and tweaks.
Having said that, we suggest that you avoid using alternative firmwares in a corporate environment unless you know what you are doing.
And if your IT department asks you to stick to the well-trodden path, please take their request with good grace.
If you think you really need to be allowed to use Android firmware of your own devising, be prepared to "show your working," as your mathematics teacher always wanted you to do at school.

Image of a lollipop courtesy of Shutterstock.