The PlayStation Store was inaccessible for several hours this morning.
Visitors to the site were met with a simple message that said: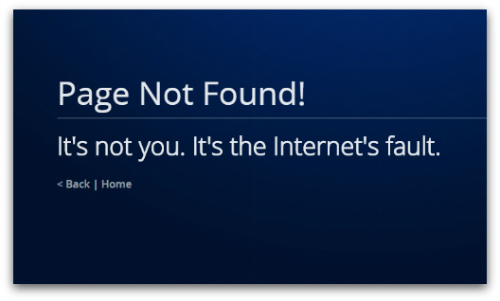 Page Not Found! It's not you. It's the Internet's fault.
The page gave no further information as to the nature of the problem or what may have caused it but Sony was aware, tweeting: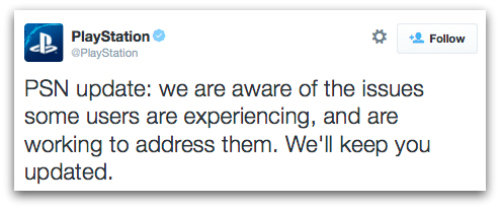 PSN update: we are aware of the issues some users are experiencing, and are working to address them. We'll keep you updated.
The company's network status page confirmed that the service was 'intermittent' for much of the morning, though normal service now appears to have resumed.
Hacking group Lizard Squad, which has previously taken down the PlayStation Network, as well as Xbox Live, Destiny and EA Games, referenced the outage in a Tweet, but it's not clear if it's claiming credit:

PSN Login #offline #LizardSquad
The outage, if confirmed as an attack, is just one of many to target the tech giant recently.
Last month the firm's movie arm was targeted by a group identifying itself as "Guardians of Peace".
In that attack the corporate network of Sony Pictures was breached, resulting in the alleged theft of unreleased movies as well as confidential information about executives' and actors' salaries.
Speculation still surrounds the source of that attack with fingers being pointed toward North Korea, which is known to be more than a little peeved over "The Interview", a Sony Pictures comedy in which two journalists are hired by the CIA to assassinate the country's leader, Kim Jong-un.
The BBC reports that North Korea, which called the movie an "act of terrorism", has denied its direct involvement in the attack but called it a "righteous deed", which may have been carried out by its "supporters and sympathisers".
The PlayStation Store outage comes days after the 20th anniversary of the console's 3 December 1994 release in Japan.
It also comes just a week after Lizard Squad took down the Xbox Live network which was hit with a DDoS attack. Shortly afterwards the group said: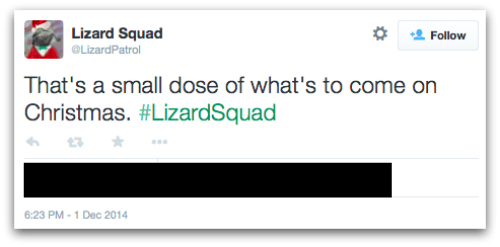 That's a small dose of what's to come on Christmas. #LizardSquad
Since then the group has reportedly targeted PC gaming network Steam, taking 2 million users offline for a short while, and highlighted a White House petition launched against it which has already gathered over 7,500 signatures, presumably from frustrated gamers.
Image of gaming background courtesy of Shutterstock.