Yahoo's going to have to sell a whole heap of Flickr users' kitty photos printed onto canvas – that will be up to $49 each, thank you very much – in order to cover the cost of the goodwill it's losing by not cutting photographers in on the deal.
That's the word from Flickr co-founder Stewart Butterfield, who left the company in 2008 and who told The Wall Street Journal that Yahoo's plan appears "a little shortsighted".
That plan reads like this: Yahoo, which is Flickr's owner, intends to make canvas prints from 50 million Creative Commons-licensed photos posted on the site, selling them for up to $49 apiece.
It's also going to make the canvas prints from an unspecified number of other non-CC-licensed photos handpicked from Flickr.
For those handpicked photos, Yahoo's going to give 51% of sales to the image creators. For the Creative Commons images, Yahoo's planning to pocket all of the revenue.
Unfortunately, as photographers who've publicly shared more than 300 million Flickr images under Creative Commons licenses are realizing, what Yahoo's doing is entirely legal.
Creative Commons is a nonprofit organization that enables the sharing and use of creativity and knowledge through free legal tools.
Part of that mission is an online repository of images and writings that creators allow others to reuse and repurpose, free, under certain conditions, including ensuring that the artists receive credit in any derivative work, or whether the works can be used for commercial purposes.
Therein lies the rub: Yahoo's only selling prints of works licensed under the CC clause that allows for commercial use. And yes, it's pasting a small sticker with the artists' names on the work.
But just because it's legal doesn't mean the photographers are happy about it.
The WSJ talked to 14 image creators, eight of whom were, in fact, pleased that they'd be getting more exposure for their work.
But six of the artists were displeased with Yahoo's plans, which many say hew to the letter of the law but which thwart the spirit of CC.
One such is Liz West, who goes by the user name "Muffet" on Flickr.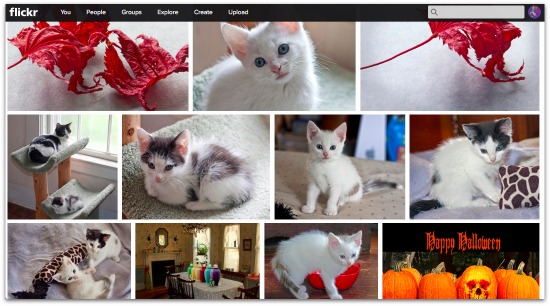 West has freely shared her photos with others for commercial use when they ask, and she's received sweet thank-you gifts in exchange: a small stove, a box of notecards.
Yahoo's gall in not asking if it can use her photos, planning to do so to make a profit, and then giving her bupkis in exchange irks her, she told the WSJ:
It ticked me off that somebody else is selling them when I was giving them away.
Nelson Lourenço, a photographer in Lisbon, Portugal, said in an email to the WSJ that he had meant for his CC-licensed images to be used for, well, articles such as this one, for example – not for a major company to sell for profit:
When I accepted the Creative Commons license, I understood that my images could be used for things like showing up in articles or other works where they could be showed to public. [Yahoo] ... selling my work and getting the full money out of it came as a surprise.
Some photographers with CC-licensed Flickr photos are removing the license from some or all of their online images to prevent Yahoo from selling them. A Yahoo spokeswoman told the WSJ that there's no other way to opt out of the program.
To change licensing on Flickr photos, you can go to Albums and select Batch edit, then Change licensing.
From there, you can set licensing to All rights reserved: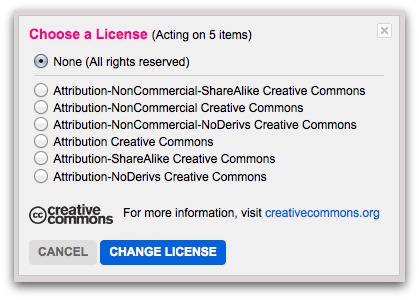 This won't help much for photographers who are entrenched on Flickr, unfortunately.
One such is Devon Adams, a high-school photography teacher who has Creative Commons-licensed works up on the site – some 58,000 of them, in fact.
How do you un-Flickr and un-Yahoo all that?
Not easily, he told the WSJ:
I'm so heavily invested in Flickr; it's not that I can just go somewhere else.
Unfortunately, this is yet another example of how storing content in the cloud – as in, on somebody else's computer – can lead to a serious lack of control over that data.
Image of For Sale stamp courtesy of Shutterstock.