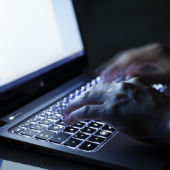 UK intelligence experts and organised crime specialists are joining forces to root out child abuse images hidden on the "dark net", Prime Minister David Cameron said on Thursday.
Speaking at a summit in London, Cameron announced a new, as yet unnamed, joint unit that will pair the National Crime Agency (NCA) with GCHQ specialists to tackle the most prolific offenders to be found in the internet's shadowy corners:
those who use increasingly sophisticated techniques to disguise their identities and encrypt the horrific images of children that they are sharing with peers.
The new unit will combine the NCA's investigative techniques with GCHQ's technical expertise to develop new capabilities to handle the challenges of analysing the vast volumes of child abuse images hidden on the "dark web".
There are terms that are used somewhat interchangeably to describe the underbelly of the internet, including the dark internet, where computers are found that can no longer be reached via the internet.
The Deep Web strata of the internet contains subsurface web content that's not indexed by standard search engines. The Darknet is a distributed filesharing network that makes up a smaller part of the Deep Web.
It's considered a haven for thieves, child abuse imagery offenders, human traffickers, forgers, assassins and peddlers of state secrets and loose nukes.
The government said in a release that they became aware of one such prolific child abuse imagery offender who was using his tech smarts to run chat services and websites in the Far East and Eastern Europe, to share child abuse material across the world.
He also served as a mentor, offering advice to other paedophiles about how to hide their behaviour online.
The government said that he was using software and a nickname to disguise his real identity.
Whatever that software was, GCHQ and NCA analysis managed to peel it apart to get at the offender's identity. He was sentenced to three years in prison after being charged with making and distributing indecent images of children.
David Cameron gave another example: a gang in the Philippines that was arranging the sexual abuse of children, filming it, and then live streaming it to paying customers across the world.
He said police found out about the gang when a British police officer examined a sex offender's computer and found indecent images, the BBC reports.
The police's discovery led to an investigation that resulted in 29 arrests and the rescue of 15 children, some as young as six, from their "living nightmare", Cameron said.
Speaking at the two-day We Protect Children Online summit, Cameron also announced a new UK law making it illegal for an adult to send a sexual communication to a child.
As it is, abusers have used Facebook, texting and other digital means to groom vulnerable children.
Online, paedophiles flatter their targets, lie about their ages and/or identities, pretend to be young and/or wealthy and/or celebrities, gain children's trust, and then abuse them by cajoling them into taking lewd photos of themselves, creating Skype accounts and then talking them into stripping, sextorting them by threatening to tell parents or share images publicly, or even meeting the predators in real life, where they've been raped.
According to the BBC, the new law against sexual communication sent to a child would apply in England and Wales and is expected to be included in the Serious Crime Bill currently going through Parliament.
Cameron said that the possession of material offering guidance on abusing children – what he called "paedophile training manuals" – is also going to be made illegal.
The summit brought together representatives from more than 50 countries, 26 leading technology companies and 10 non-governmental organisations.
The delegates signed up to a range of actions and unveiled technological initiatives to deal with the problem of how to make it much more difficult for criminals to exploit digital means to abuse children for sexual purposes.
The Prime Minister's call to action over child abuse image proliferation last year has already resulted in technology companies stepping up to the plate.
Google and Microsoft have introduced a number of changes to their search functions, including tweaking algorithms to prevent images and videos of child abuse material from appearing in search results.
Microsoft is increasing the size of its search term blacklist, while Google's algorithm has now rolled out around the world, in all 40 languages supported by Google search, and automatically checks against millions of search terms.
The UK government said in its release that Google has seen a fivefold reduction in the number of searches for child abuse images since these changes were made.
Building on those efforts, these new technological approaches were announced at the summit:
The digital fingerprints (hash values) of thousands of known child sex abuse images identified by the Internet Watch Foundation (IWF) will be used by the major tech companies (Facebook, Microsoft, Google, Twitter and Yahoo) to prevent these images being shared on their services, so they can no longer be viewed.
Google has developed hashing technology that allows known child abuse videos to be identified and blocked from being shared. The company plans to share it with the wider industry. Yahoo will be the first industry partner to pilot it.
Microsoft, Google and Mozilla have committed to investigate the feasibility of implementing browser-level blocking restrictions designed to prevent people getting access to URLs of known child abuse material via internet Explorer, Chrome and Firefox.
Microsoft, Google and Mozilla are "working together to look at" having "built-in restrictions to block access" to child abuse material: something that Cameron said would be a "game changer".
Google said its "aggressive" removal of child abuse images via algorithm changes and other means have translated into a five-fold reduction in the number of child sexual abuse image-related queries in search over the past 12 months.
Other measures announced by Cameron:
An extra £10 million ($15.7 million) next year to create further specialist online child sexual abuse teams within the NCA, focusing on the worst offenders.
The establishment of a single secure database of indecent images of children – the Child Abuse Image Database (CAID) – which will help UK law enforcement improve and speed up investigations.
A £50 million ($78.6 million) pledge over five years contributing to a newly established global child protection fund, being administered by UNICEF.
Cameron called the package a "watershed moment in reducing the volume of child abuse images online" – one that "marks significant progress in delivering a truly world-leading response to a global problem."
The so-called "dark-net" is increasingly used by paedophiles to view sickening images. I want them to hear loud and clear, we are shining a light on the web's darkest corners; if you are thinking of offending, there will be nowhere for you to hide.
But shadow home secretary Yvette Cooper noted that there were still "very serious gaps" in the government's plans because "thousands of cases of abuse are not being followed up by the police".
The BBC quotes her:
We know the National Crime Agency has details of over 20,000 suspected of accessing images of child abuse under Operation Notarise, and yet they have only investigated a tiny proportion of these - and arrested fewer than 1,000.
Hopefully, putting more money, more technology, and more investigatory power into pursuing, investigating and then bringing to justice offenders, will result in all abuse cases being followed up on by police, and as many abusers being taken offline and off the streets as possible – the sooner, the better.
Image of laptop courtesy of Shutterstock.