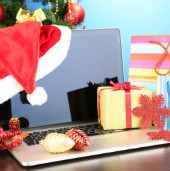 Last year, reports of online scams rose 31% during the festive period and UK consumers were left £9.5 million out of pocket, an average loss of about £113 each.
Or at least, that's the conservative estimate. The Guardian suggests the true amount lost could be more than £28m.
Christmas time can be frantic with last-minute shopping, online purchases, and fielding those calls from the bank who are alarmed at your spending habits and want to know if it's really you.
So we thought we'd put a little guide together to help you avoid being stung this festive season.
How to avoid Christmas shopping scams, phishing and malware
You know by now not to click on links in emails without first checking for evidence of a phishing attack. And you also know that your bank will never ask you for your login details via email. But what else can you do to avoid giving scammers an extra present?

Save receipts from shop purchases in a special Christmas envelope. It's handy for returns and it guards you against fake phone calls from 'shops' who are following up on a purchase you've made. If you've bought the item, hang up.

Put all your transaction confirmation emails into an email folder so you can refer to them later if necessary. If you get an email that looks like it's from a shop you've bought something from, dig out the original receipt email and use the contact details listed there.

When buying on eBay or other marketplaces, only buy from sellers that accept credit cards or PayPal as you have some recourse if your goods don't arrive. Don't transfer money directly into personal sellers' accounts.

Your inbox is likely to be flooded at this time of year with offers and incentives. Move everything that looks of interest into a 'to deal with' email folder so you can look at them individually when you have more time – don't let down your guard about clicking on links and opening attachments just because you're busy and distracted, it a very quick route to accidentally downloading malware.

Luxury clothing brands and the latest games consoles and smartphones are prime scam opportunities. If you see an item being offered with a heavy discount, always do a price comparison to see what the going rate is at different retailers. Anything that is being priced way below its closest rival needs to be treated with caution.

If you see a social media post or email offering wild discounts or free gifts, look into it carefully before following it up, even if looks at first like the worst that will happen is you don't win. Did you know you can 'save' a Facebook post to read later?
Don't be impulsive – do your research first.
Worms, phishing and scams from Christmas past
The Christmas of 2007 saw the creators of the Dorf-AE worm launch a seasonal attack in the form of an email promising to be a Christmas sexy striptease. Emails encouraged users to click on images of Santa's sexy helpers who then uncharitably infected their computers with malware.
In 2010, Yuletide shoppers were tricked into opening a malware-infested fake email from Amazon.com. The email purported to contain important shipping information about a recent purchase.
Christmas came early for Facebook scammers in 2011 with festive scams appearing as early as October – such as the one offering the chance to win £500 gift cards from Argos. It was simply a ruse to get your personal data and then share the offer with your friends so the Scrooges behind the scam could grab theirs too.
In December 2012, PayPal users received emails about a small payment made to eBay advertising services, tricking them into attempting to cancel the order and give up bank details in the process.
In 2013 high demand for next-gen gaming consoles like the new PlayStation 4 and Xbox One unleashed a plague of scams. Most appeared on Facebook, where fans were encouraged to Like pages in return for entry into a raffle to win a console. Participants were then emailed a link connecting them to phishing survey scam sites.
Further reading
For more information about the sorts of scams pulled on retailers, check out our 5 online scams to watch out for on Black Friday and Cyber Monday.
Image of Christmas shopping and gift icons courtesy of Shutterstock.