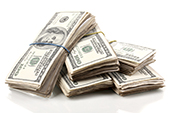 A US national based in Uganda has been charged with running a major global counterfeiting operation, which used an online forum to connect buyers and sellers of forged currency.
The man, Ryan Andrew Gustafson, was arraigned on Tuesday at a court in central Kampala and remanded to prison pending investigation.
According to details released by the US Secret Service, 27-year-old Gustafson went by a number of aliases, including "Jack Farrel" and "Willy Clock".
The Clock pseudonym was used on "Tor Carding Forum", a well-known underground forum used by carders and other cybercriminals, where Clock hooked up with potential buyers of fake money. From there Clock went on to set up his own forum, Community-X, which focused on the sale of counterfeit bills printed in Uganda.
The forum was private and members were vetted before being admitted, but an undercover Secret Service operative managed to gain entry and purchase some fake $100 bills.
From initial investigations into counterfeit money turning up in Pittsburgh in late 2013, agents followed a trail through a number of low-level players turned confidential informants, leading them first to the Community-X forum and from there to Uganda where the counterfeit cash seemed to be originating.
There "Jack Farrel" was identified as the ringleader, and using facial recognition it was confirmed that "Farrel" was in fact Gustafson.
On 11 December an informant made a purchase of phony bills, and agents followed those involved to their base, passing on details to local investigators.
On raiding the premises, a residence on the outskirts of Kampala occupied by "Farrel", police found fake monies from various countries including Euros, and over $180,000 in counterfeit US notes.
They also discovered a range of printing equipment, fingerprint-concealing kit, and charity pamphlets with fake bills hidden between pages. Various other methods were used to move the cash around, including shipping it in packages disguised as shipments of computer components.
In all it's estimated that the operation produced as much as $2million in fake notes, much of which was used outside the US. If found guilty, Gustafson faces a potential sentence of 25 years and a $500,000 fine.
As the Secret Service point out, this is an old-school crime facilitated by modern technologies, with the crooks relying on anonymised online services to connect and do business and hoping to hide from authorities by working across national borders.
Just as crooks find it easy to steal the identities of others, the fuzzy nature of online identity can work against them, as in this case where efforts to vet forum members failed to spot an undercover agent.
Now the operation has been wound up and prevented from pumping out further fake notes, and all that remains are legalities, with the usual extradition proceedings likely.
The Secret Service and prosecuting lawyers are rightly proud of their achievement. US Attorney Hickton warned other would-be crooks that they can't hide either online or in foreign countries:
This complicated, international cyber counterfeiting conspiracy was broken as a result of expert investigation by the Secret Service and a total commitment of all cooperating law enforcement to reject the premise that criminals committing cybercrimes in the U.S. – but who reside outside our borders – cannot be reached.

We will hold cyber criminals accountable and bring them to justice no matter where they reside.
Image of dollars courtesy of Shutterstock.