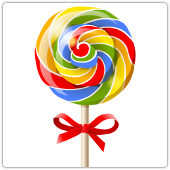 Google recently released yet another version of Android Lollipop, 5.0.2, but published a firmware image for only one device in its Nexus family.
If, like me, you bought a Nexus device in the hope that you'd get your updates both reliably and early, you may yet be disappointed.
In particular, if you have a Nexus 7 3G model (either the 2012 or 2013 version), you'll still be KitKatting your way into 2015, with not even Lollipop 5.0 available yet.
For what you might call "currently supported" Nexus devices, which are those with names that are numbers (4, 5, 6, 7, 9 and 10) plus the Nexus Player, that means there are now four different official firmware versions.
Ironically, the Nexus 7 2012, of which there are two models, sports the oldest and the newest firmware builds, with the 3G version stuck back at Android 4.4.4 and the Wi-Fi only version leading the Nexus pack with Android 5.0.2.
As when Lollipop 5.0.1 came out, Google isn't saying what changed, so we can't offer you any release notes.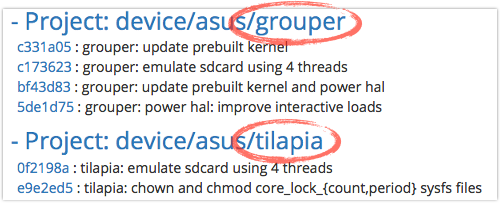 Interestingly, according to the changelog derived from the Android Open Source Project (AOSP) code and published on the Funky Android website, 5.0.2 includes changes for the Nexus models codenamed grouper and tilapia. (They're types of fish, if you were wondering).
Grouper refers to the Nexus 7 2012 with Wi-Fi only, and tilapia to the 3G-equipped version.
So, in theory, you could use the AOSP repository to build yourself a bang-up-to-date Lollipop for your tilapia, but you'd have to do without the proprietary components that are layered on top of the base operating system in most Android firmwares, including Google's own.
Importantly, support for Google Play is not part of the AOSP core, so an AOSP-only firmware won't let you go about installing third-party apps in the recommended way.
By the way, if you have a Nexus 7 2012, like me, and you're keeping your eye on the official firmware image repository, don't look for the designations grouper and tilapia.

The Nexus 7 2012 firmware images are labelled nakasi for the Wi-Fi only device, and nakasig, where the "g" denotes GSM/3G support. (Nakasi is a type of music, if you were wondering.)
In short: yet more fragmentation, even in Google's own corner of the Android ecosystem; and still no universal availability of Lollipop, even for what are effectively Google's research and development platforms.
Let's hope Google can simplify matters in 2015: all other things being equal, computer security increases as complexity decreases.
Image of a lollipop courtesy of Shutterstock.