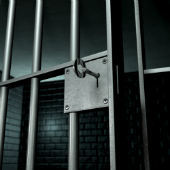 A Scottish sextortionist who preyed on victims as young as 13 has been sentenced to 53 months in jail and three years of monitoring after that.
The High Court in Glasgow handed the sentence to Andrew McBride, 21, after finding him guilty of forcing 25 female and 13 male victims as young as 13 to perform sex acts on Facebook and Skype.
According to the BBC, McBride admitted 38 charges of extortion, as well as charges of fraud and possession and distribution of indecent photographs.
Judge Lord Turnbull told McBride – a social sciences student – that his behaviour was "manipulative and cruel".
He added:
Your victims were humiliated to provide you with sexual images of themselves for your sexual gratification.
The judge said that McBride had demonstrated little remorse and went so far as to pretend he was suffering from a psychiatric illness and couldn't remember anything about his crimes because of alcohol and drugs – claims that Lord Turnbull dismissed as "preposterous".
McBride's crimes took place over five years, when he himself was between the ages of 15 and 20. His victims ranged from 13 to 20.
According to Douglas Fairley QC, prosecuting, McBride used the aliases David Paterson, Lindsey Smith, Elizabeth McCormick and Jamie Harvey to befriend and then threaten his victims into sending him images of themselves in their underwear, naked or engaging in sexual activity.
McBride's reign of terror finally ended when a victim told her mother, who contacted police.
He's been placed on the sex offenders' register.
It's horrific that these young people were tormented at all, but the thought that it was extended over five years makes it all the more disgusting.
But what are some clues that your child may be suffering silently, under attack by somebody like McBride?
The Virtual Global Taskforce for Combating Online Child Sexual Abuse offers up some behaviour signs that could be perfectly innocent but may indicate that a child is being preyed on:
A change in self-esteem and self-confidence
Becoming secretive
Downloading files onto discs
Using encryption software
Withdrawal from the family and isolating themselves
Difficulties at school
An increased level of anxiety
Difficulty sleeping
Difficulty concentrating
Excessive concern with washing and cleanliness
Excessive use of the computer
Aggression around computer usage
Change in the use of sexual language
Unexplained gifts or cash
Pornography on the computer
Any of these could be normal signs of growing up, the Taskforce says, but it's important to figure out why the changes are happening, and to seek help and advice from your local authorities if you're concerned.
We've also published some tips on how to keep kids and teens safe online.
Image of jail courtesy of Shutterstock.