It seems like we hear about new data breaches every week. Last year we saw shops, banks, restaurants and other companies lose data on customers, not to mention an epidemic of medical data breaches.
The European Union (EU) has been working on a new regulation which will apply one consistent set of requirements to all EU countries and all organisations that hold data on European citizens, even if the organisations are not based in the EU.
The proposed legislation will require everyone who holds data on European citizens to implement appropriate security measures to protect the data, which may include names, photos, email addresses, bank details, posts on social networks, medical information or a computer's IP address.
It will also introduce fines of up to €100 million or 5% of annual turnover in the event of a personal data breach.
Sophos has put together a tool to help you check if your company will be compliant with the key areas of personal data security in the upcoming regulation. It's free, and you don't have to enter in any of your own details in order to access it.
Learn more about the new EU Data Protection Regulation, or click below to check if your company will be compliant.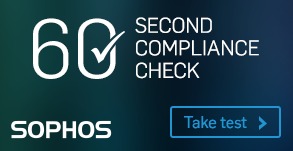 The Regulation still needs to go through further steps before it becomes law but it's widely anticipated that it will be adopted in 2015, so it's worth making sure you're compliant before the law is in place.