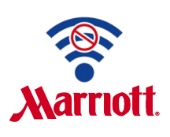 Marriott says it's throwing in the towel on its unsuccessful legal and PR battle to get the Federal Communications Commission (FCC) to let it block personal hotspots in its conference and convention areas:
Marriott International listens to its customers, and we will not block guests from using their personal Wi-Fi devices at any of our managed hotels. Marriott remains committed to protecting the security of Wi-Fi access in meeting and conference areas at our hotels. We will continue to look to the FCC to clarify appropriate security measures network operators can take to protect customer data, and will continue to work with the industry and others to find appropriate market solutions that do not involve the blocking of Wi-Fi devices.
Not all travelers were even aware that Marriott was blocking hotspots, but one who did took it up with the FCC in 2013.
According to the FCC, an individual who attended a function at the Gaylord Opryland Hotel and Convention Center in Nashville, Tennessee, claimed that the hotel was jamming mobile hotspots in the convention space.
Such blocking is a violation of Section 333 of the Communications Act.
An investigation found that the allegation was right on target: employees of Marriott, which manages operations at the Gaylord Opryland, were using a Wi-Fi monitoring service to contain and/or deauthenticate packets sent to targeted access points and thus to disrupt access to individual hotspots.
As a result, in October, the FCC fined Marriott $600,000 (around £400,000) for blocking Wi-Fi access at its Gaylord Opryland Resort and Convention Center.
After the fine was handed down, Marriott joined with the American Hotel and Lodging Association to request that the FCC change the rules and allow it to block personal hotspots.
On 30 December, Marriott said it didn't mean to block personal hotspots in guests' rooms or in lobbies, but that it was asking the FCC to allow the practice in conference rooms or other meeting spaces.
Marriott says the blocking was all about protecting Wi-Fi security: specifically, ensuring that guests using its Wi-Fi were protected from rogue wireless hotspots that it said could degrade service, from "insidious cyber-attacks", and from identity theft.
In fact, according to Re/code, Marriott said that while it's not currently blocking Wi-Fi devices at its properties, it's not giving up in its pursuit of getting the FCC's blessings on blocking.
Harvey Kellman, a senior attorney for Marriott explained the company wants FCC guidance on how it might block Wi-Fi signals for security reasons:
We will only consider the use of the blocking capability when there is a clear cyber-security risk.
Perhaps Marriott was (and still wants to be) blocking for security reasons. But also, it could have been all about sweet, sweet payola.
After all, Wi-Fi access is a lucrative business – the FCC claimed that Marriott charged conference exhibitors from $250 to $1,000 per device to use Gaylord's Wi-Fi connection.
Further reading
→ Can't view the video on this page? Watch directly from YouTube. Can't hear the audio? Click on the Captions icon for closed captions.
Image of Wi-Fi blocking courtesy of Shutterstock.