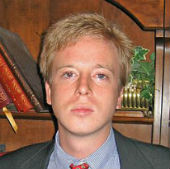 Barrett Brown, a journalist with links to the Anonymous hacking collective, has been sentenced to over five years in jail for his role in the hacking of private US intelligence firm Strategic Forecasting Inc. (Stratfor).
Brown originally faced a possible 100 years behind bars until he took a deal in March 2014 that saw him plead guilty to charges of obstruction of justice, being an 'accessory after the fact' and making threats to an FBI agent.
The 'obstruction of justice' charge related to a March 2012 raid on the house he shared with his mother during which Brown hid a laptop, supposedly to protect his sources.
The authorities then claimed he was an 'accessory after the fact' because he helped cause confusion after the Stratfor hack "in a manner that diverted attention away from the hacker" – the hacker being Jeremy Hammond, who himself was sentenced to ten years in prison for his role in the hack, and who was caught partly because of his use of a poor password.
The threats made to FBI agent Robert Smith came via a trio of videos Brown uploaded to YouTube in September 2012.
Brown, who is said to have been at one time an unofficial spokesman for Anonymous, originally faced pre-deal charges including identity theft and possession of stolen credit card data. He had also controversially been accused of posting a hyperlink which pointed towards data stolen from Stratfor.
That charge was later dropped.
In his statement to the court, Brown was defiant over the link charge, saying:
The government exposed me to decades of prison time for copying and pasting a link to a publicly available file that other journalists were also linking to without being prosecuted.
He also denied ever being a mouthpiece for Anonymous, but did say that he once falsely claimed he was in order to acquire the trust of defense contractor Booz Allen Hamilton.
In his statement Brown expressed some regret over his actions, especially in regard to the videos he published, but also implored the judge to apply careful consideration to the prosecution's conduct and the level of sentencing his crimes deserved:
Your Honor, I am asking you to give me a time-served sentence of thirty months today because to do otherwise will have the effect of rewarding this sort of reckless conduct on the part of the government. I am also asking for that particular sentence because, as my lawyer Marlo Cadeddu, an acknowledged expert on the guidelines, has pointed out, that's what the actual facts of the case would seem to warrant. And the public, to the extent that it has made its voice heard through letters and donations and even op-eds in major newspapers, also believes that the circumstances of this case warrant that I be released today. I would even argue that the government itself believes that the facts warrant my release today, because look at all the lies they decided they would have to tell to keep me in prison.
Unfortunately for Brown, the judge did not concur and instead sentenced him to 63 months in jail. Taking the 28 months already served into account, Brown will still have another 2 years, 11 months in jail, though he will be eligible for parole in one year.
Brown was also ordered to pay restitution of $890,000 – the bulk of which will be passed to Stratfor.
Image of Barrett Brown by Karen Lancaster via Wikimedia Commons