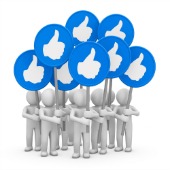 An Austrian court has given the go ahead to a class action lawsuit brought against Facebook for alleged privacy violations across Europe.
Max Schrems' Europe v Facebook group, which originally filed the lawsuit in August 2014, has had an initial hearing date set for 9 April 2015, marking the first time that Facebook will appear in court over the complaint.
The class action asserts that Facebook violated users' privacy in a number of ways, including:
invalid privacy policies
the unauthorised use of data
supporting NSA spying via its PRISM surveillance program
tracking users on external websites via apps and its 'Like button'
unlawful introduction of 'Graph Search'
the passing on of user data to apps and third parties without authorisation
the use of 'big data' to analyse and monitor users' interactions
The purpose of the hearing will be to decide whether the social networking giant's objections to the admissibility of the case are valid.
According to a press release put out by Europe v Facebook, the company has claimed that "it cannot be sued" as the number of users bringing the action would be illegal in Ireland, home of its international HQ, because it would violate "public order."
Dr Proksch, lawyer for the plaintiffs, said:
We have reviewed all objections from Facebook in great detail and came to the conclusion that they lack any substance. It seems that they try to delay the procedure with partly really bizarre arguments.
The plaintiffs are demanding compensation of €500 ($565/£370) each in respect of the alleged privacy violations. The number of claimants has been capped at 25,000 for logistical reasons but it still represents "the largest privacy class action in Europe," according to Schrems.
A further 50,000 users have signed up to the class action via www.fbclaim.com and await news as to whether they will be allowed to join at a later date.
Beyond seeking a nominal level of damages, which would collectively amount to more than €10m, the group is also calling for a "suspension of data usage".
Europe v Facebook believes that Facebook's business practices, which it describes as being "questionable," may be ruled illegal under Europe's strict privacy laws.
Image of Facebook men courtesy of Shutterstock.