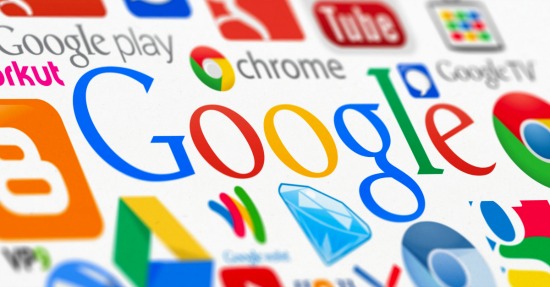 Google's opened up its Google Now digital assistant to 40 third party apps, including Pandora, Lyft, TripAdvisor, eBay and RunKeeper.
No longer will we be forced to do the onerous labor of engaging finger muscles to poke at such apps to get our personal data packaged up and presented.
Instead, key information from such apps will pop up in Google Now at the right time without our having to remember to open them.
But wait, there's more: Google's Aparna Chennapragada said in a blog post that additional apps are going to be integrated in the future:
Starting today, the Google app on Android can help you keep up with all the good stuff in 40 different apps at a glance. It'll bring you Now cards to help you out with your day-to-day life, giving you information that's helpful to you, right when you need it.
Google's site shows sample cards, such as an AirBnB card showing rentals similar to searches made on the service: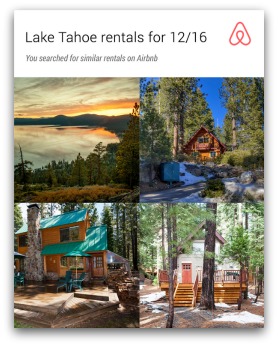 … a Strava card that shows your weekly total run distance: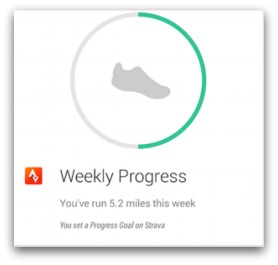 … or a picture of a Zillow property listing that matches a previously saved search: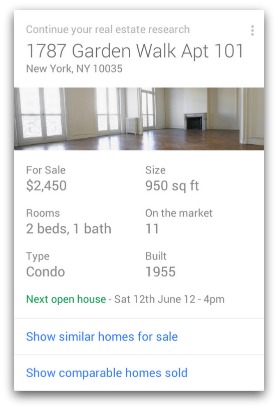 Google's going to roll out all sorts of cards like this over the next few weeks, including cards from The Guardian that let you catch up on news of the day, Pandora recommendations for music based on what you like, a reminder to complete your daily French lesson on Duolingo, a grocery reorder list from Instacart, or a card to order a Lyft from whatever airport you've landed in.
Of course, given that Google Now runs on your sweet, sweet location data, that "whatever" airport is the specific airport you find yourself trying to get a lift, or a Lyft, from.
Are you the kind of person who's a bit creeped out by all this?
By "all this," we're talking about more or less having your mind read.
Your location known and logged down to the most granular level so that your walking/running/biking distances can be crunched.
Your flights tracked.
Your shopping habits analysed (to the extent that if you walk into a mall, it'll tell you what stores are available, and if you've recently researched a product, it'll even tell you if you're near a store that carries it).
Your network-connected TV detected and your viewing habits listened to.
If you are, in fact, creeped out by any of those data pieces being collated and crunched by the Googleplex data munching machine, well, Google Now is probably a Google Noooooooo! for you.
Do you consider the prospect fun or frightful? Let us know in the comments section below!
Image of Google courtesy of Chukcha / Shutterstock.com.