It's Safer Internet Day, also known as #SID2015.
Broadly funded by the EU, it's an effort by the public servants of Europe to encourage us.
It's an attempt to get all of us – Africans, Americans, Australians, Asians and Antarcticans, not just Europeans! – to get a bit more serious about safety and security online.
This is the 12th SID, and this year's theme is, "Let's create a better internet together."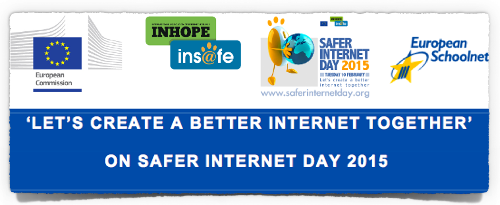 To which we say, "Why not?"
Excuses not to bother about security
Not everyone agrees with Specially Named Days like this, of course.
You've probably met cynics who pooh-pooh attempts to mobilise interest in online security by groups such as governments, industry bodies, public servants, big hitters in the industry, and so on.
You can sort-of see why.
The governments of many countries are under the pump these days for as good as spying on us all with what sometimes feels like a vengeance.
And many industry giants are under the pump because of a feeling that, instead of telling you how to do security better, perhaps they should be the ones learning.
Adobe, Target, Home Depot, the US Postal Service, Anthem, Sony…and many others.
Physician, heal thyself
On the other hand, the problem of computer insecurity, and its opportunistic dark side, cybercrime, is actually a lot broader than that.
Take just one example of cybercriminal machinery: spam.
Most spam is sent by infected home computers.
Or another: hacked web servers acting as delivery sites for exploit kits and malware.
Many of these servers are unpatched, insecure hobbyists or small businesses.
In other words, the crooks will continue to rack up their ill-gotten gains – even if they aren't quite as state-of-the-art as you might think – for as long as we don't "create a better internet together."
What to do?
We can keep telling ourselves that the Targets, the Sonys and the Anthems of the world should do better, and that when they get their ducks in a row, well, then we can start talking about security.
Or we can all do our bit anyway!
So, why not join us today for our Twitter Chat?
Get stuck in with your own advice, opinion, controversy and debate.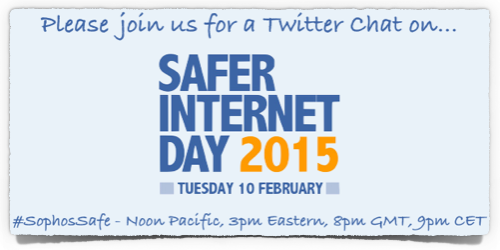 The great thing about Twitter chats is that you don't have to sign up, log in, or run any special webinar software.
All you need is a browser, and all you have to do is to follow the hashtag #SophosSafe in a window somewhere on screen.
Chime in whenever you feel like it, or just lurk and see what others people are saying.
Whether you're busy on your laptop at your desk during the working day, or loafing on the sofa with your tablet in the evening, it's easy to join in.
When and where
Hashtag: #SophosSafe
Date: Tuesday, 10 February 2015
Time:
• Noon PST (e.g. San Francisco, Vancouver)
• 3pm EST (e.g. Toronto, Boston)
• 8pm GMT (e.g. London, Edinburgh)
• 9pm CET (e.g. Frankfurt, Budapest)
(For more information on how to take part, please take a look here.)