Twitter's Chief Financial Officer Anthony Noto is making headlines again after having his Twitter account hijacked in order to send out spammy links.
Noto's account is back to normal now, and the spam tweets have been deleted.
But here's what the CFO's stream was spewing before Twitter took it down: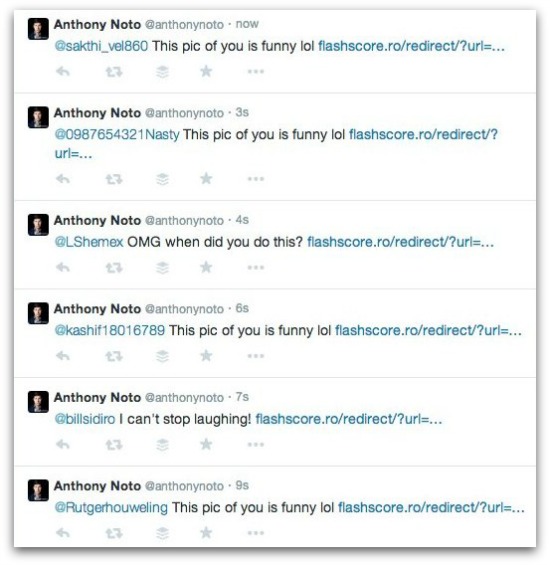 Twitter told CNBC's Julia Boorstin on Tuesday that it had suspended the account and deleted the gunk:

Twitter tells me it's suspended @anthonynoto account and deleted the spam tweets while it deals with the issue. $TWTR
Poor Noto – this isn't his first, er, "incident". In November, he goofed and sent secret company plans as a public tweet, not as the direct message he meant to send.
Although we don't know how Noto lost control of his account this week, we do know that clicking on suspicious links is one sure way to get into trouble.
Phishing might sound old-school, but some of the true classics are still extremely successful.
In fact, a recent study from Google and the University of California, San Diego, found that there are some phishing sites that are so convincing, they work on an eye-popping 45% of visitors.
Of course, it could also be that Noto didn't practice good password etiquette – perhaps he gave it away to someone, or maybe it was the name of his pet. We don't know.
What we do know is that Noto's – and everyone else's – chances of having an account hacked would be massively reduced through the use of two-factor authentication – or login verification, as Twitter calls it.
If you've not yet set up login verification on your Twitter account, then do it today!
And remember – whether you're a C-level exec, or anyone else who uses the internet, you should be using a strong, unique password, employing two-factor authentication and always treating unexpected links with suspicion!
Image of bird courtesy of Shutterstock.