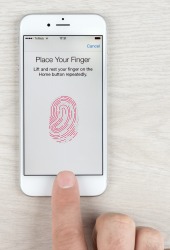 Customers of RBS and NatWest will soon be able to access their online banking without having to remember a password – but only if they have an Apple device equipped with Touch ID.
The new online banking apps join a growing list of third-party apps using Touch ID for authentication purposes.
In recent months, apps including Dropbox, Evernote, LastPass, 1Password and Amazon have all adopted support of the fingerprint sensor which is also used by Apple itself to authenticate App store purchases and for its own Apple Pay service.
The new banking service, which launches on 19 February, is an industry first in the UK and will be available to customers in possession of an iPhone 5s or later, iPad Air 2 or iPad Mini 3.
According to the announcement on the RBS website, almost half of the banks' 15 million combined customers use online banking services, with over 3 million using their mobile apps on a weekly basis. Of those, around 1.8 million are iPhone users.
The adoption of fingerprint technology is a customer recommendation, coming via the banks' online 'Ideas Bank' forum, a service used by RBS and NatWest to engage with customers in the face of continued branch closures.
Customers taking advantage of the new system will have to activate their accounts with their regular security information but after that they will only need to use the fingerprint sensor on their Apple device to gain access.
To prevent repeated attempts at trying to circumvent the new system customers will be limited to three login attempts, after which they will have to enter their passcode before being able to use the app.
Some in-app features will still require an additional level of verification, and in some cases, limits would be applied to the amount of money transferable as a new payment, the banks said.
Announcing the new feature, Stuart Haire, Managing Director for RBS and NatWest Direct Bank said:
There has been a revolution in banking, as more and more of our customers are using digital technology to bank with us. Adding Touch ID to our mobile banking app makes it even easier and more convenient for customers to manage their finances on the move and directly responds to their requests.

Our aim is to be the no.1 bank for customer trust, service and advocacy so we want to continue adapting our service based on the valuable feedback we receive from our customers every day.
Apple's fingerprint reader – a detection sensor built into the home button – has not been without its detractors since its introduction in 2013.
Back in September that year, we wrote how Germany's Chaos Computer Club had "cracked" the technology, and Paul Ducklin highlighted how fingerprint technology in general was not without its faults.
The basic security risk – namely the ability to trick the sensor via a print left on another surface, or even via a photocopy – still remains. And, of course, you can't change your fingerprints, so – unlike a password – if somebody does crack your fingerprint then it's probably going to stay cracked.
Mobile banking apps continue to grow in popularity – last June a British Banking Association report revealed Brits had downloaded them over 12.4 million times, using them to conduct almost 40 million transactions per week.
Banks also continue to look into new ways to reduce the risk of fraud. Just last week, Visa announced it would start tracking customers via their smartphones' location data to reduce the risk of fraud – the logic being if the credit card location matches the smartphone location, then it's likely to be the card holder making the purchase.
In terms of authentication, last September Barclays announced plans to introduce a system that scans the pattern of veins within a user's finger, while Mastercard announced in October that it will team up with Zwipe to launch a contactless payment card featuring a fingerprint sensor.
Whether such a shift towards biometrics is a good thing or not is very much a matter of opinion.
But the one thing that is pretty certain is that biometrics is here to stay – so we better get used to it.
Image of Touch ID courtesy of Chukcha / Shutterstock.com.