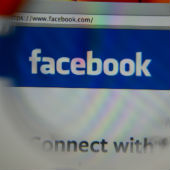 Dana Lone Hill, a member of the Lakota people and one of many Native Americans whom Facebook shut out over erroneous reports of fake names, is to head up a class action lawsuit against Facebook over its "real name" policy.
Lone Hill's story came to light earlier in February after she was forced to prove – multiple times – that her name was authentic.
That policy, which formerly required users to use only their "real name" for their profiles (it's now the "authentic" name policy), last year faced an intense backlash from drag queens, drag kings, and others in the LGBT (lesbian/gay/bisexual/transgender) community, some of whom it had locked out of their accounts because their account names weren't "real."
Facebook eventually restored Lone Hill's account, just as, in October 2014, it restored the accounts of drag queens, amended its policy and apologised, owning up to a policy that ignored the importance of using pseudonyms online to protect people from harassment, violence and government action.
At the time of the LGBT apology, Facebook promised change. In the more recent case of Natives such as Lone Hill, it's again assured us that change is coming.
But as The Guardian reports, change has been slow, and when it has come the aggrieved feel it's been lacking.
One change that Facebook instituted was to augment identification options to include allowing documentation that shows a user's "authentic name".
This involves giving Facebook two forms of identification that include a legal name and one piece of government-issued identification with a photo or birthday that matches the user's profile.
Facebook says it's got more work to do to ensure that everyone can be their "authentic self" on the social network.
One piece of the puzzle has been to more or less deputise members of the Electronic Frontier Foundation (EFF) and members of San Francisco's drag community, including Lil Miss Hot Mess.
Lil Miss Hot Mess has reportedly been forwarding 10 to 20 messages a day to Facebook as she works with the company to help users whose accounts have been reported and erroneously suspended.
Facebook has promised changes that would stop communities from being targeted and members from erroneously being reported, and to help people appeal cases after they've been unfairly or mistakenly reported, but, Lil Miss Hot Mess told The Guardian, those changes haven't come yet.
The Guardian quotes her:
We're happy that Facebook is sort of taking small steps to make it more difficult for people to falsely accuse people of using fake names, but I still think there is this bigger issue of: do we have a right to choose our name on social media? And unfortunately even the move to the sort of authentic identity language hasn't really addressed that.
The class action lawsuit is being brought on behalf of Native Americans, Lone Hill told the newspaper, though she's also in communication with the drag queen coalition.
Lone Hill doesn't suspect racism, per se; rather, she thinks that names made up of adjectives and nouns tend to get flagged by Facebook's enforcement system because of an anti-Native name slant that's baked into its policy.
For example, the company explicitly prohibits using "words, phrases or nicknames in place of a middle name".
That policy doesn't make the names inauthentic, Lone Hill says. Nor does it mean that Facebook's racist.
Regardless, something's got to give.
The Guardian quotes Lone Hill:
I want to bring this lawsuit for Native America because these are our real names, these are the names that we were given, these were the names we were born with.

I'm not saying it's racism, I'm just saying they need to fix the system.
Image of Facebook courtesy of Gil C / Shutterstock.com.