What does the word "torrent" have in common with the word "penis"? As of last week, both words are now blocked from turning up in Tumblr search.
As TorrentFreak reported on Saturday, the censorship comes in the midst of an apparent anti-piracy blitz at the micro-blogging platform.
Last week, users panicked as Tumblr cracked down on music piracy, shuttering a slew of accounts that had racked up 3 complaints – the result of an old policy actually getting enforced due to the music industry apparently having targeted Tumblr for copyright infringement.
While the move against music piracy got plenty of attention, the more subtle move of filtering the word "torrent" has only become apparent as users have found queries coming back blank when they include the word.
This, in spite of the platform including plenty of posts being tagged with or mentioning it, including, for example, this post on how to torrent safely.
Here's the "sorry, you're out of luck!" message users now get when searching on "torrent":

TorrentFreak reports that the results are being hidden both from public and logged-in users, although switching off "safe mode" by clicking on the lock on the right-hand side of the screen will unblock torrent-related content, like so: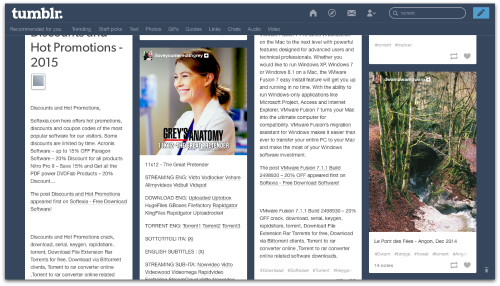 Be careful when you do click on that lock, though: you'll be dumped into NSFW territory presto.
That's because Tumblr turned on the safe mode by default a few years ago, to hide adult content from public view.
The same filter blocking words such as "penis" or "gay" (the latter of which was being used to spam the site with porn, Tumblr says) is now being used to block "torrent".
TorrentFreak pointed to a posting by the developers at Vuze, who noticed the block late last week.
No surprise here: looks like the blocked word is filtering out completely innocuous material, the developers said:
Amusingly, the first result for us [after turning off safe mode] is pictures of water flowing over rocks.. so, non-adults feel safe, tumblr will protect you against pictures of the outdoors.  

Although, it is true that a torrent is a VIOLENT stream of liquid.  And we should all be protecting our children against violence.

Thanks, guys and gals.  Why not #p2p and #flood next?
Yes, as TorrentFreak notes, censorship is indeed a slippery slope, #H20 #pun noted.
Still, Tumblr deserves sympathy for having to deal with the thorny issue of blocking search terms that will help it wage the battle against piracy – a battle it has little choice but to take on, lest the platform itself finds it gets blocked – while still respecting innocent, even helpful, material.