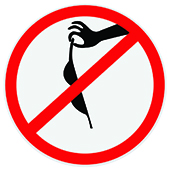 Google is strapping a chastity belt onto its Blogger blogging platform.
It says that starting 23 March 2015, Blogger bloggers won't be able to publicly share images and video that are sexually explicit or show graphic nudity.
Note that any smut that's on a blog before that date won't be deleted.
Rather, it will be made private after 23 March, only viewable by the blog owner or admins and the people with whom the owner has shared the blog.
Global News reports that Google sent emails to Blogger users informing them of the policy change.
Leading up to that date, bloggers who muse about the carnal have a few choices: you can remove the sexually explicit or graphic nudies, or you can take it upon yourself to mark the blog as private.
Then again, if you'd rather pack it up and move to another, less restricted blogging platform altogether, Google suggests that you have the option of exporting your blog as an .xml file or archiving its text and images with Google Takeout.
As far as adult content-friendly platforms go, WordPress allows blogs with adult content as long as they're "marked as Mature in our system".
It's not a free-for-all, however: WordPress warns against posting "sexual materials that can be considered pornographic, such as images or video of explicit sexual acts or close-up images of genitalia."
Tumblr, on the other hand, tolerates sex and nudity, though such material is filtered and users have to unlock "Safe Mode" to see anything racy (which, as of this month, now includes torrent-related searches).
From Tumblr's current adult content policy:
We have no problem with that kind of stuff. Go nuts. Show nuts. Whatever.
Any salacious blogs created after 23 March will be bumped off Blogger or subjected to unspecified "other action", Google says.
That goes for blogs that include content that's "sexually explicit" or that shows graphic nudity as explained in Google's content policy.
Exempt from the purge is content that offers "a substantial public benefit", Google says, such as that found in artistic, educational, documentary, or scientific contexts.
Google didn't give any reasons for the new policy, which replaces a previous policy on Blogger that allowed adult content if it were in fact labeled as "adult".
Google hasn't changed its policy's messaging around censorship, stating that "censoring this content is contrary to a service that bases itself on freedom of expression."
How Google will manage, with Blogger, to increase "the availability of information, [encourage] healthy debate, and [make] possible new connections between people" while still curbing "abuses that threaten our ability to provide this service and the freedom of expression it encourages" remains to be seen.
Writing policies and laws that restrict truly harmful content while still respecting freedom of speech isn't easy.
That was made apparent recently when civil liberties advocates, bookstores and publishers sued to stop an anti-revenge porn law in the US, outlining how laws that aren't written carefully enough could arguably be used to criminalize a host of non-vengeful innocents who handle nude images: libraries, booksellers, college professors or breastfeeding educators, for example.
Good luck to Google on that one.
Image of nude ban courtesy of Shutterstock.