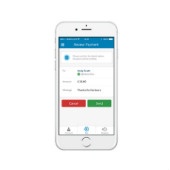 In a first for UK banks, Barclays will allow people to send money to each other and make payments to small businesses using their Twitter handle.
The new service launches on 10 March using the bank's Pingit payment app on Android and iOS devices.
Pingit has been downloaded over 3.7 million times since its 2012 release, and so far the app has been used by individuals and the 57,000 businesses signed up to it to transfer a total of over £1 billion.
According to the bank, 'Twitter Payments' will open up a market of around 13.5m Twitter users in the UK. To use the service, both the payee and payer need to be signed up to both Twitter and the Barclays Pingit app, but neither needs to be a Barclays customer.
Transfer limits are the same as for Pingit – an individual can typically send and receive up to £1,500 per day.
Darren Foulds, Director of Barclays Mobile Banking and Pingit said:
We are always on the lookout for new and exciting ways to make people's lives easier and customer feedback plays a big part in how we chose to further develop our apps.

Adding the ability to pay people or a small business using just a Twitter handle brings together a social and digital experience to create a new step forward for mobile payments in the UK.
Barclays wants you to feel safe when using its app – it says it has been awarded the BSI ISO 27001 Kitemark in recognition of its work in keeping online bank and Pingit user accounts safe and secure, the BSI Kitemark for Secure Digital Transactions for its mobile banking and Pingit app, and a Cyber Essentials badge from the UK Government.
It also offers safeguards to customers who use mobile banking:
When you use any of Barclays Mobile Banking services, you're automatically protected by our Mobile Banking Guarantee. If you're an innocent victim of fraud, we'll cover any losses, no matter how much money is taken from your account.
The existing Pingit app already allows people to send and receive payments using their mobile phones, without the need to exchange bank account numbers and sort codes.
Barclays says sending a Twitter Payment is a short 3-step process:
Log into Pingit
Enter the Twitter handle or select a payee from the contact list
Complete the payment instantly
It is likely that the new service will use Twitter handles purely as a means of identifying users, in the same way Pingit currently does with mobile numbers, meaning there will be no additional risk introduced by Twitter payments.
However, it's not clear yet what happens if you type in the wrong Twitter handle. This is Pingit's answer to the question, I've sent a payment to the wrong mobile phone number – what should I do?:
Be very careful when entering the details of people you want to send money to ‒ we aren't responsible if you send it to the wrong person. Each time you make a payment with Barclays Pingit, you'll see a confirmation page before your payment is sent, so there's a chance to double-check the details before you confirm.
Assuming there are no additional safeguards being launched with Twitter payments, it would pay to be cautious when you type.
Pingit screenshot from Barclays website.