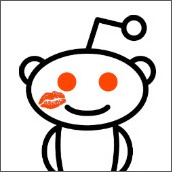 Reddit blew it.
In spite of claiming to care about privacy, last year it let itself become ground zero for people to share nude celebrity photos that had been leaked in August.
…and in September (twice). And in October.
Eventually, Reddit banned the subreddit that was devoted to handing out the stolen images to one and all.
That might have appeased the lawyers of the celebrity victims, but what about the rest of humanity?
Reddit was subsequently criticized for creating a two-tiered system: one in which images of famous people that had been published without permission would be taken down, but in which photos of nobodies/people without lawyers were fair game for whatever revenge-porn-type antics Redditors got into their heads.
Now, Reddit's owned up to that blown chance and has changed its privacy policy so that even the non-celebrities amongst us can request to have images removed.
Here's its mea culpa, published in a post on Tuesday:
Last year, we missed a chance to be a leader in social media when it comes to protecting your privacy - something we've cared deeply about since reddit's inception. At our recent all hands company meeting, this was something that we all, as a company, decided we needed to address.
When the new policy takes effect, sexual content posted or linked to on Reddit without the subject's permission will be prohibited on the huge message board, as will "violent personalized images".
The revised privacy policy and its injunction against what Reddit calls "involuntary pornography" goes into effect in 2 weeks, Reddit said.
The particulars:
No matter who you are, if a photograph, video, or digital image of you in a state of nudity, sexual excitement, or engaged in any act of sexual conduct, is posted or linked to on reddit without your permission, it is prohibited on reddit. We also recognize that violent personalized images are a form of harassment that we do not tolerate and we will remove them when notified. As usual, the revised Privacy Policy will go into effect in two weeks, on March 10, 2015.
Reddit commenters were quick to point out – rightly so – that the new privacy rules are egregiously vague.
Some of their questions:
How will permission work?
What constitutes valid permission?
Is permission implicit with photos of porn stars, due to their profession?
Many in the community are seeing this as a CYA legal maneuver: it enables Reddit to absolve itself of liability by stating that it follows the law.
Indeed, "without your permission" could well translate into "when you can pressure us with litigation."
Will it stop Reddit users from posting porn? No.
Will admins work hard to ferret out and block "involuntary porn"? Probably unlikely.
Will those drafted into involuntary careers as porn stars finally be able to get links taken down from Reddit, thereby stemming a major source of distribution?
Yes. And that's a good thing.
If you need to have such images of yourself taken down, write to contact@reddit.com.