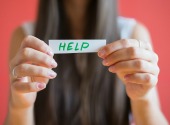 "I am thinking of jumping", the Facebook post said.
Attached to the post were pictures of the George Washington Bridge to Manhattan.
An alarmed friend of the 18-year-old contacted authorities. Port Authority Police Department Lt. Thomas Michaels, assigned to the bridge, responded by reaching out to the cyberbullied teen with his own Facebook message.
In the post, Lt. Michaels included his phone number, along with a plea for the teen to call.
Eventually, the troubled teen did. He agreed to meet with Michaels and to then be taken to hospital for help.
Unfortunately, not all suicidal notes that get posted to Facebook – or to other social media sites, such as Amanda Todd's final YouTube post or Leelah Alcorn's heartbreaking Tumblr goodbye – have happy endings.
Now, Facebook has stepped up to help both those experiencing suicidal inclinations and the frantic friends who spot their messages.
On Wednesday, Facebook announced new and improved tools to help prevent suicide, providing resources, advice and support not only for troubled users but for those reporting them.
The network worked with the mental health organizations Forefront, Now Matters Now, the National Suicide Prevention Lifeline, Save.org and others on the updates, as well as consulting with people who've experienced self-injury or suicide.
It turns out that a social network such as Facebook can be a vital way to reach suicidal people, given that, as experts told Facebook, connecting with people who care can help those in distress.
The first thing Facebook asks when users report a direct threat of suicide is that they contact local emergency services immediately.
It also asks users to report troubling content so that its teams – which work around the world, 24/7 – can review it. These teams prioritize self-injury reports and send help and resources to those in distress.
Now, Facebook said in a post on Wednesday, it's offering them more support:
We have significantly expanded the support and resources that are available to them the next time they log on to Facebook after we review a report of something they've posted. Besides encouraging them to connect with a mental health expert at the National Suicide Prevention Lifeline, we now also give them the option of reaching out to a friend, and provide tips and advice on how they can work through these feelings.
Facebook is also offering help to whomever flags a troubling post, including the option of calling or messaging the friend whom they're worried about, to let them know that somebody cares, or to reach out to other friends or trained suicide hotline professionals.
The company's doing this because it's the most important work Facebook has, it says:
Keeping you safe is our most important responsibility on Facebook.

The changes will roll out in the US in the coming months, with improved tools now being worked on for those outside of the US.
Hopefully, Facebook's commendable efforts will help people who don't know where to turn when they're suffering from suicidal thoughts or when they see such thoughts coming through from others on their newsfeeds.
Let's hope that Facebook's work inspires all social media venues to follow suit. This is work profoundly worthy of emulating.
Kudos, Facebook.
Image of help courtesy of Shutterstock.