This was the Facebook comment:

Doing. Tesco. Over
Andrew Hennells wrote it at 7.25 pm on 13 February.
At 7:40 pm, that's exactly where he was: trying to rob a branch of Tesco, the UK supermarket chain.
Somebody had alerted police about a man demanding cash at a King's Lynn, Norfolk store.
When armed police showed up, they nabbed Hennells, who was carrying a knife and £410 (about $620) in stolen cash.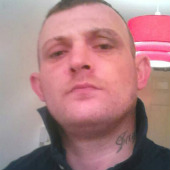 Hennells, 31, from Gaywood, King's Lynn, is now awaiting sentencing at Norwich Crown Court after admitting to robbery and to carrying a knife as an offensive weapon, according to the Telegraph.
Sgt Pete Jessop, from King's Lynn CID, told the newspaper that Hennells was found after officers were told he had fled the scene to a nearby pub.
He said that the Facebook note handed the prosecution a bit of a slam dunk:
It was a bizarre and unusual case. The pictures and posts on Facebook helped us confirm what we already knew.

None of this takes away from the seriousness of the crime or the trauma experienced by the victims of the robbery.
What are the lessons to be learned from this story?
For one thing, when you brag online about your crimes, there's a good chance that someone you know will flag your post and tip off police.
(Or that one of your Facebook friends is actually a cop. Or even a federal agent.)
We consider that a good thing, naturally! Criminals who are ignorant about the public nature of social media must save the police a great deal of time when it comes to investigating and prosecuting. Thumbs-up!
But the same type of dopey, big-mouthed behaviour that gets criminals thrown in the slammer also leads to, say, people getting fired.
When we say be careful what you post, we're talking to the non-criminal element. What we post on the internet might not get us jailed, but it still lasts forever and can haunt us just when we least need it: like when we're looking for a job.
The trolls whom former Red Sox player Curt Schilling named and shamed recently could give us an earful about such repercussions, I'm sure.
As of last week, there were nine trolls fired or kicked off athletic teams because of Schilling having published their tweets, and he promised that "we're not done" yet.