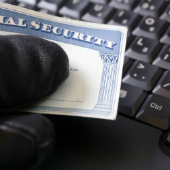 A fugitive charged with tax fraud and identity theft in November 2014 was apprehended by federal authorities in Atlanta on Wednesday after allegedly fleeing during his trial.
Lance Ealy, a 28-year-old man from Dayton, Ohio, had previously been indicted by a federal grand jury for 46 counts of fraudulent activity, including filing false tax returns and buying and receiving stolen identities.
Ealy had been charged with buying stolen Social Security numbers and personal information from an online fraud site run by Vietnamese national Hieu Minh Ngo.
Ngo pleaded guilty to charges of wire fraud and identification fraud on 3 March 2014.
Since then, US authorities have been attempting to track down his customers with the most notable arrest being that of Derric Theoc from Florida. After pleading guilty to one count of attempted access device fraud at his October 2014 trial, Theoc was sentenced to 27 months in jail.
Ealy, however, skipped justice – at least for a while.
While waiting for the jury to return a guilty verdict he cut off an ankle monitor and went on the run, allegedly using his Twitter account to post a taunting selfie, published by security blogger Brian Krebs.
During his time as a fugitive, Ealy also submitted legal applications to the court suggesting the judge had been biased, and requesting a retrial. After receiving a reply from federal prosecutors that wasn't to his liking, he even took the time to file a response to their motion to dismiss.
According to Krebs, Ealy continued to file fraudulent tax returns while on the run. Citing unnamed sources, Krebs says he abandoned the notion of using another online service, and instead opted to contact prison inmates in Ohio who allowed him to file bogus tax returns in their names. Each was allegedly paid $100 for their help with Ealy pocketing the rest.
Meanwhile, the US Marshals Service began a hunt for Ealy that ended on 18 March:
The manhunt began on November 15, 2014 in Dayton, Ohio but came to abrupt end this morning in Atlanta, Georgia. After nearly 4 months of exhausted efforts and tracking Ealy through more than eight states.
The manhunt came to an end after Ealy was linked to Atlanta and US Marshals in the area surprised him with an early morning visit during which he was taken into custody.
The agency notes that Ealy is currently being held in the Northern District of Georgia, pending his extradition back to Ohio.
Image of social security thief courtesy of Shutterstock.