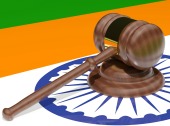 India's Supreme Court on Tuesday repealed a controversial law after civil rights groups and a law student filed petitions arguing that it violated people's rights to freedom of speech and expression.
NDTV quoted Justice RF Nariman, one of the two presiding judges, as saying "Section 66A is unconstitutional and we have no hesitation in striking it down".
Section 66A of the Information Act, 2000, had previously seen people arrested for comments left on Facebook, Twitter and other websites.
Unlike the case of Paul Chambers who was, quite rightly, arrested for a 'joke' tweet about blowing up Robin Hood airport in Nottingham, England, many of those detained in India were allegedly guilty of posting what we, in the West, would consider to be 'non-criminal' comments.
In India, however, Section 66A had criminalised the publishing of any information that could be deemed to be "false, but for the purpose of causing annoyance, inconvenience, danger, obstruction, insult, injury, criminal intimidation, enmity, hatred or ill will".
In other words, the law was designed to cover what is generally classed as defamation which is, of course, a serious civil offence, but one that not many people outside of the Indian police force would consider worthy of arrest under criminal law.
Even so, anyone transmitting such comment faced prison terms of up to three years upon conviction.
The law first came under scrutiny in November 2012 after Shaheen Dhada was arrested for a comment she left on Facebook. Following the death of politician Bal Thackeray, she posted a short comment noting the fuss that had followed his passing, questioning why similar treatment was not afforded to freedom fighters from India's past:
Everyday thousands die. But still the world moves on. Just due to one politician dead. A natural death. Everyone just goes crazy. They should know. We are resilient by force, not by choice. When last did any one show some respect or even 2 mins silence for Bhagat Singh, Azad, Sukhdev... Respect is earned, not given... but forced. Today Mumbai shuts down.
After another girl who liked Shaheen's comment was also arrested, IT minister Kapil Sibal had to issue an advisory to all state governments, saying Section 66A should not be used by the police to make arrests unless the regional Superintendent had confirmed the action in writing.
Since then there have been other high profile arrests under the law, including a cartoonist in Mumbai who was charged with sedition in 2012 for posting a cartoon of Chief Minister Mamata Banerjee. More recently, a teenage student was charged and then later freed on bail for criticising state minister Azam Khan via a comment posted on Facebook.
Now, the ending of Section 66A means that posting offensive comments online is no longer a crime punishable by a period of imprisonment though, as Advocate Nitin R told The Economic Times of India, there is still a case to be made for controlling social media, and defamation laws continue to remain valid:
For one thing, 66A was making a mockery of criminal law by using words such as annoyance. But social media can be used as an important tool for illegal acts. While 66A was trying to cover defamation, it can still be done through civil law.
The Times of India urged citizens to remain cautious over what they communicate online though, pointing out that other provisions of the Indian Penal Code could still see arrests made.
The online paper noted how arrest under Section 66A was merely a bailable offence in and of itself.
The Times cited section 153 of the penal code as the tool which allowed registration of a case where a statement had been made "either in writing or orally that incites communal riots or provokes communal tension and enmity between communities".
It also pointed out how prison sentences of up to three years for "persons who spread rumour through their statement to cause public disorder" were covered by Section 505 of the nation's penal code.
Speaking after the abolition of Section 66A, IT minister Sibal said challenges remain, noting how the interpretation of the law by police was often at the heart of the contentious arrests seen previously:
The challenge before the country now is the discretion provided to the Police in registering a case under IPC provisions branding a statement offensive under Sections 153 and 505 of IPC. The distinction between a pure free speech from offensive statements by the police is the challenge. And it is this discretion with police that is often misused.
Image of India law courtesy of Shutterstock.