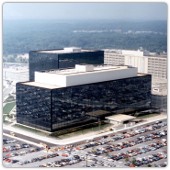 Security breaches at the US National Security Agency (NSA), headquarted in Fort Meade, Maryland, typically get a lot of publicity.
Such as the massive and still-being-released stories based on information stolen by megawhistleblower Ed Snowden back in 2013.
The security breach issue in the Snowden case was that one man, a outside contractor working at the NSA, was able to acquire a raft of confidential data from the inside, apparently without triggering any alarms, and leak it to the public.
As we wrote in 2013, we "can't see the schemozzle abating for quite some time," and, indeed, it hasn't.
Right now, however, the huge NSA news is about what sounds, at first blush, like an attempted physical security breach the Fort Meade headquarters.
According to an FBI statement: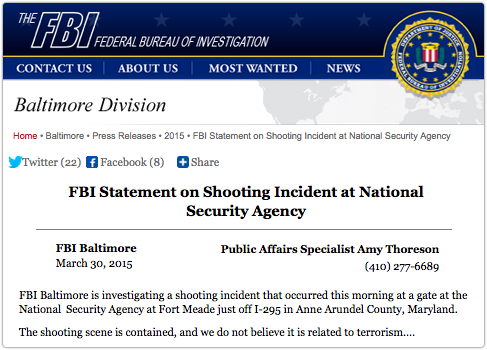 FBI Baltimore is investigating a shooting incident that occurred this morning at a gate at the National Security Agency at Fort Meade just off I-295 in Anne Arundel County, Maryland.

The shooting scene is contained, and we do not believe it is related to terrorism. [...]
News reports offer additional information, including that:
A car attempted an "unauthorised entry" and was ordered to leave the area.
The car them accelerated towards a police car blocking the road.
Police opened fire on the car.
The car crashed into the police vehicle.
Apparently, two men were in the car, dressed as women; the car was reported stolen.
ABC News offers an explanation that the two men had been "partying at an area hotel" with a third person, in whose car they drove off without permission, ending up at the NSA gates.
One of the men was killed in the shooting; the other was apparently seriously injured and rushed to hospital
A policeman was injured, too, and taken to hospital.
We'll have to wait and see whether the men in the car actually had any preconceived idea of getting into the NSA (and what they thought they might do if they got inside).
Alternatively, this incident might turn out to be a tragic side-effect of "party-induced" craziness.