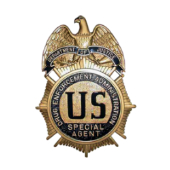 Two federal agents tasked with investigating black market site Silk Road have been charged with fraud after allegedly stealing Bitcoins and stashing the funds in offshore accounts.
The US Department of Justice yesterday unsealed a criminal complaint filed against Carl Force, 46, of Baltimore, and Shaun Bridges, 32, of Laurel, Maryland, on 25 March.
Both men were part of an ultimately successful FBI operation that saw Silk Road shut down along with the arrest of the site's mastermind, Ross Ulbricht on 2 October, 2013.
Ulbricht, who was later found guilty of "aiding and abetting the distribution of drugs over the internet," among other charges, is now awaiting sentencing and could be facing the prospect of life behind bars. He is also due to stand trial in Maryland where he will face murder-for-hire charges.
Prior to its closure, Silk Road had been a black market running on the dark net. Buyers and sellers accessed the site to trade illegal drugs, hacking software, and counterfeit identities, using the hard-to-trace virtual currency Bitcoin to complete their transactions.
Former DEA agent Force, the agent tasked with going undercover to communicate with Ulbricht, aka "Dread Pirate Roberts", allegedly used several online aliases besides his official undercover identity of "Nob" to siphon Bitcoins away from Ulbricht. According to the criminal complaint, Force is charged with wire fraud, money laundering, theft of government property and conflict of interest.
According to the Department of Justice (DoJ), Force:
Used fake online personas, and engaged in complex Bitcoin transactions to steal from the government and the targets of the investigation. Specifically, Force allegedly solicited and received digital currency as part of the investigation, but failed to report his receipt of the funds, and instead transferred the currency to his personal account.
The complaint also says that Force, using a second alias, allegedly attempted to sell details of the federal investigation to Ulbricht for $250,000. It is also alleged that he used another identity – that of a woman named Carla with an alias of "French Maid" – to offer investigation details to Ulbricht for $100,000 in Bitcoin.
The complaint further alleges that Force ran his own digital currency exchange during the investigation and overstepped his authority by using the benefits of his position to freeze another customer's account and then transfer the funds to his own. He is also accused of sending an unauthorised subpoena to another online payment service, directing it to unfreeze his own personal account.
The complaint says Force was arrested in Baltimore on 27 March and has resigned from his DEA post.
Bridges, a computer forensics expert, who surrendered himself to authorities yesterday, has been charged with wire fraud and money laundering. The former special agent with the US Secret Service allegedly accessed Silk Road accounts by using passwords garnered from one of the site's customer service representatives following a drugs bust.
The DoJ alleges that Bridges stole more than $800,000 (£541,000) in Bitcoin:
Bridges allegedly diverted to his personal account over $800,000 in digital currency that he gained control of during the Silk Road investigation. The complaint alleges that Bridges placed the assets into an account at Mt. Gox, the now-defunct digital currency exchange in Japan. He then allegedly wired funds into one of his personal investment accounts in the United States mere days before he sought a $2.1 million seizure warrant for Mt. Gox's accounts.
As part of his testimony, Tigran Gambaryan, special agent with the criminal investigation division of the Internal Revenue Service's (IRS) Cyber Crimes Unit Liaison said:
Force and Bridges abused their positions as federal agents and engaged in a scheme to defraud a variety of third-parties, the public and the government, all for their own financial enrichment.
Both men appeared in court on Monday.