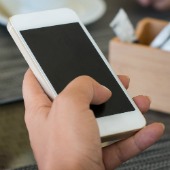 A satirical Chinese video about a mobile app that lets you hire thugs to beat up bullies has been turned into reality.
According to Want China Times, the app has recently been removed from Chinese app stores because people were using it to arrange real-life beatings by real-life hitmen for hire.
The English translation for the app's name – which is 滴滴打人, or "Didi Da Ren" – is "Didi Hit People".
Didi is a legitimate app in China which works like Uber for hiring taxis. This separate app appears to be piggybacking on the name "Didi" to market itself as a sort of Uber-for-hitmen.
Want China Times reports that the app's description said that it offered the services of gym coaches, retired soldiers, gangsters and outlaws.
The app was available on Android app stores and other third-party app stores including 360, Wandoujia and Xiaomi.
The 360 app store reportedly showed that it had been downloaded over 40,000 times, while Wandoujia recorded 8800 downloads.
Didi Da Ren was first proposed as a joke by an online talk show before its developer, Changsha Zhang Kong Information Technology Limited, cooked up a mobile service with the same name.
Changsha reportedly said that the app's intended only for entertainment, social networking, and for posting Help Wanted ads for odd jobs – similar to how TaskRabbit works in the US.
That rules thuggery or other illegal activity right out, a company representative said, and it also means that the company's not accepting responsibility for any such transactions facilitated via the app.
Want China News reports says its source tinkered around with the app before it was taken down, even going so far as to post a thug wanted ad and speak to a service provider.
They found that users were required to describe the type of pugilist they're looking for and how much they're willing to pay (with a minimum price of more than one yuan, which is $0.16 or £0.11).
When the reporters posted a Help Wanted ad (for $0.32), they received a phone number.
When they called, a Shanghai man surnamed Lei said that he could do their dirty work for 200-500 yuan ($32-$80, or £21-£54).
Given a time, place, and photo of the intended victim, and given the right price, Lei reportedly claimed that he could put any victim in hospital with the client-stipulated degree of harm.
He told the reporters that he'd answered several ads through Didi Da Ren and that he was booking two days in advance.
There was no need to meet in person, he said, since clients can pay through the online third-party payment service Alipay once the job was done.
The app's developer, Changsha, denied any connection with the satirical video about an app for hiring thugs, which shows a nurse, a schoolgirl and a schoolboy using it to hire tough guys to beat up bullies.
As of Thursday, the app had been removed from some stores but was reportedly still available on the app stores Wandoujia and Xiaomi.
Changsha's owner said that the company's staff had spotted ads looking for thugs and that they'd been instructed to delete them manually.
Image of smartphone courtesy of Shutterstock.