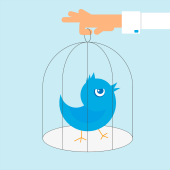 Twitter is cracking down on abusive accounts, announcing an updated violent threats policy, as well as a new filter that could block threatening messages before they are even seen by the intended victims.
The move comes after leaked internal memos from CEO Dick Costolo back in February showed the social network thought it should be doing more to reduce trolling on the service.
Shreyas Doshi, Twitter's director of product management, took to the company's blog on Tuesday to say:
Our previous policy was unduly narrow and limited our ability to act on certain kinds of threatening behavior. The updated language better describes the range of prohibited content and our intention to act when users step over the line into abuse.
In addition to prohibiting "direct, specific threats of violence against others," the updated policy will now also apply to "threats of violence against others or promot[ing] violence against others".
To enforce the policy, Twitter may require abusers to delete offending tweets and supply a phone number to the company, and abusive accounts may be hit with temporary bans.
While suspension decisions are made by Twitter's staff, the company said it recently employed an algorithm that analyses tweets based on their content and the context of the message.
By also factoring in the issuing account's age, the software could then determine whether the tweet was likely to be abusive and prevent victims from seeing it in their feeds.
Victims would not receive a notification in their mentions (when a tweet uses the "@" address of the message's recipient), but they would still be able to see the abusive tweet in their feed if they follow the abuser's account, or via search.
Doshi says the new tools will allow Twitter to react quickly and decisively in a number of scenarios, including those instances where one user or group suddenly begins receiving abuse from a large number of users in a short period of time.
Doshi explained that the software would not look at an account's popularity or consider whether it was controversial when determining whether its content was potentially abusive – which should allay some concerns that Twitter is engaging in censorship.
Doshi reiterated the company's desire to make the platform an inclusive and safe one:
The ultimate goal is to ensure that Twitter is a safe place for the widest possible range of perspectives, we will continue to evaluate and update our approach in this critical arena.
While the new measures should be welcomed, many Twitter users who suffered at the hands of trolls have already quit the social network.
Two recent examples from a pretty exhaustive list: Last month, Mortal Kombat producer Shaun Himmerick quit the network after receiving violent and sexual threats against his wife and young daughter:
And this month we saw Jeremy Clarkson's rumoured Top Gear replacement Sue Perkins take a break from the social network after she was hit with a slew of death wishes and more direct threats.
Image of caged angry bird courtesy of Shutterstock.