A wanted man who taunted police with a nose-thumbing selfie campaign on his Facebook page has been jailed.
Aaron Bee, from Lincolnshire, UK, pleaded guilty to two charges dating back to October: breaking a non-molestation order and assault by beating.
Mr. Giiggles-R-Me Bee started the nyah-nyah images campaign on Facebook in November, after police put out an appeal asking for his whereabouts.
Cue lots of pictures of Bee gesturing at police, their cars and a police station – posted to his 3395 Facebook friends with the misspelled hashtag of #theystillcarntcatchme…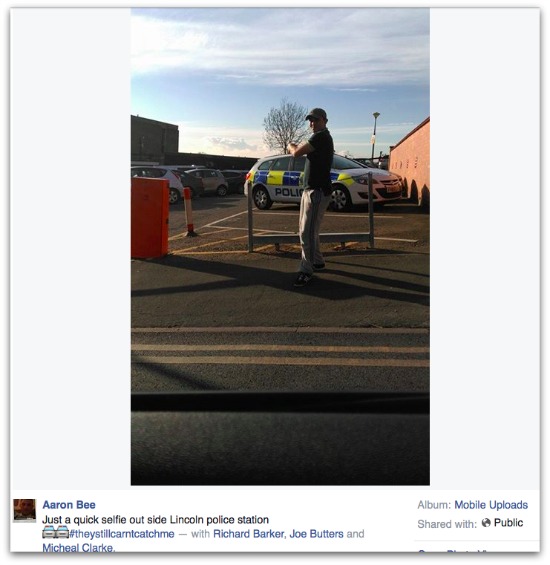 Just a quick selfie out side Lincoln police station [patrol car emojis] #theystillcarntcatchme
…coy fingertip waggling out the window at passing police…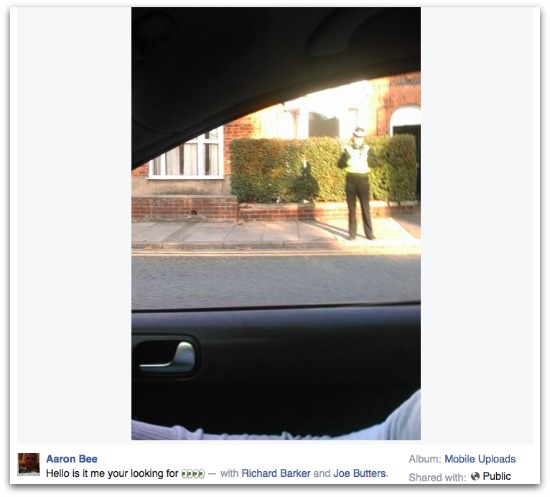 Hello is it me your looking for [searching eyeball emojis x4]
…badly illuminated shots of caressing cop caravans while tittering…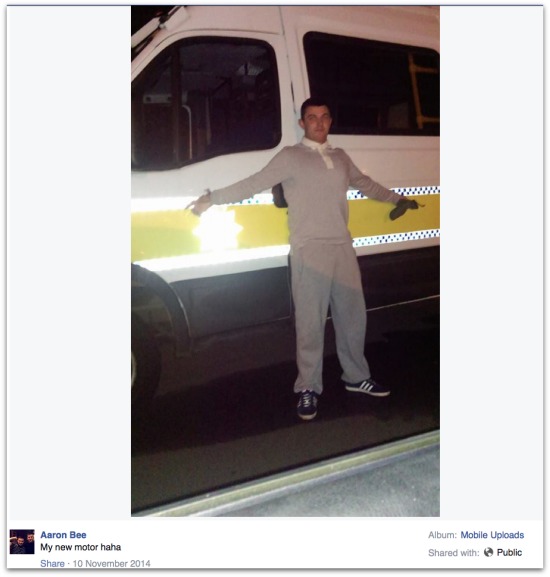 My new motor haha
…badly illuminated images of hanging around at night outside the station's front door…
Outside a village police station
…extremely badly illuminated shots of hanging around at night outside what Bee says are the police headquarters: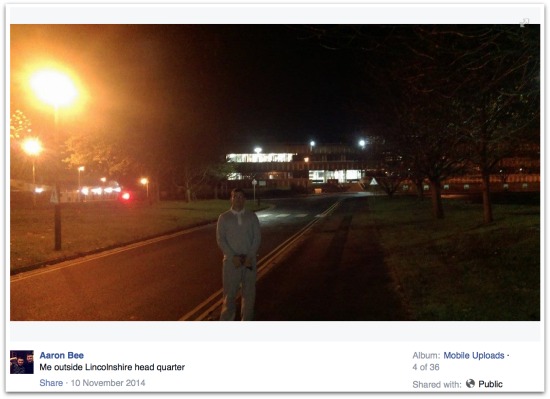 Me outside Lincolnshire head quarter
The BBC reports that Judge Michael Heath handed Bee an 8-month sentence last week, but he was released immediately because of the time he'd already spent on remand since being arrested in November 2014.
As of Thursday, he was once again free and posting merrily away:

Guess who's back freedommmmm
I'm sure that his many fans (Bee's posts get hundreds of Likes) are a bit disappointed that the Hollywood-esque thriller has drawn to a close.
No worries, though. Someone who loves to hang around with the police this much will probably find a way to catch their attention again!
If he really likes to hang around police stations as much as his photos suggest, he might want to come taunt the police in Texas.
After all, the last time an alleged burglar told Texas cops to "Catch me if you can," they did. In 5 minutes!