Dozens of American Airlines flights were grounded on Tuesday night when pilots' iPads abruptly crashed – or, in the words of one passenger who quoted a pilot, "stopped working".
The statement sent out by the airline at the time: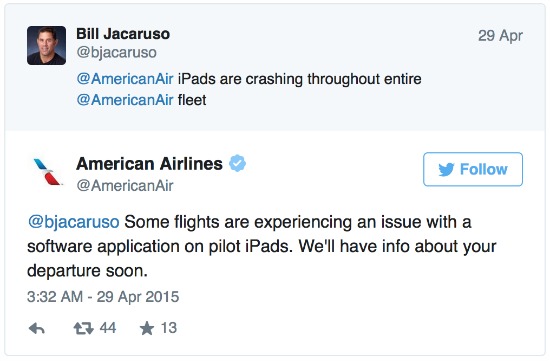 Some flights are experiencing an issue with a software application on pilot iPads.

An airline spokesperson told Quartz that "several dozen" flights were affected by the outage.
The news outlet quoted one passenger, Toni Jacaruso, who'd been on flight #1654 from Dallas to Austin:
The pilot told us when they were getting ready to take off, the iPad screens went blank, both for the captain and copilot, so they didn't have the flight plan.
Jacaruso told The Verge that he was traveling home to Austin from Dallas/Fort Worth airport with his wife, Toni, and his beagle, Masita.
Their flight was scheduled to leave at 8:20pm CT.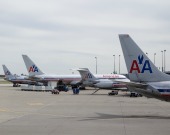 But after sitting on the tarmac for a while, the pilot got on the intercom and said that his co-pilot's iPad had gone blank. After another 24 minutes, the pilot's own iPad went belly-up.
Jacaruso, his wife and his dog deplaned and grabbed a rental car to drive to Austin.
Philip McRell, another passenger on flight #1654, said it seemed to be a novel experience for the pilots:
The pilot came on and said that his first mate's iPad powered down unexpectedly, and his had too, and that the entire 737 fleet on American had experienced the same behavior. It seemed unprecedented and very unfamiliar to the pilots.
The glitch also affected flights in Chicago and New York.
American Airlines told Recode that the problem stemmed from an update to an app that contains terminal maps and other information used in flight planning.
Pilots who had stored a previous version of a runway map for Ronald Reagan Washington National Airport on the iPad were affected when the old version conflicted with a new one they were trying to access.
New data will be released on 8 May, but in the meantime pilots have been told to push an updated version of the map through another app, print a hard copy or delete and re-install the affected app.
In 2012, AA became the first commercial airline to get FAA approval to use iPads in the cockpit during all phases of a flight, from gate to gate.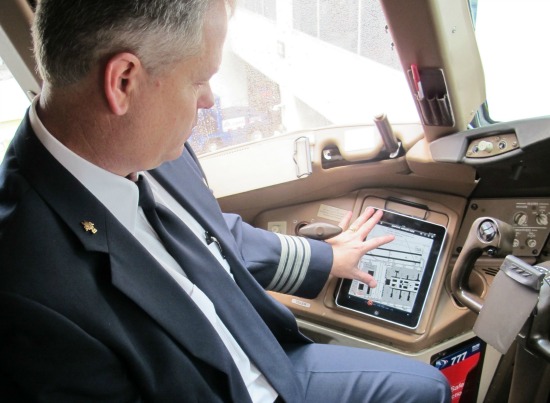 American Airlines finished rolling out its tablet-based Electronic Flight Bag program in 2013, thereby doing away with the 35 pound paper-stuffed kitbags that pilots used to carry on board to access flight plans, manuals and other reference materials.
In fact, kitbags were the primary cause of injuries to pilots, the airline said when it rolled out the program.
Whew! What a relief to only have to carry a 1.35-lb. tablet!
The airlines saved on fuel costs, while the pilots were relieved of the main cause of injury, and fewer trees were put to use as manuals and other materials.
It all sounds great until the electronics glitch and there's no paper backup!
Image of American Airlines courtesy of Rob Wilson / Shutterstock.com. Image of pilot and iPad, courtesy of American Airlines.