Facebook has apologised after a bug caused major problems for users yesterday as existing posts disappeared, new links were blocked from being posted, and others wouldn't allow for an image to be posted alongside the link.
Some users trying to browse to links reported seeing the following message: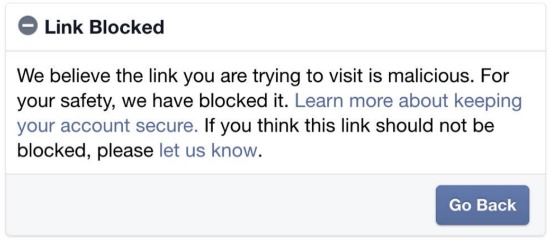 Link Blocked

We believe the link you are trying to visit is malicious. For your safety we have blocked it. Learn more about keeping your account secure. If you think this link should not be blocked, please let us know.
Coinciding with the civil unrest in Baltimore, some users suspected Facebook was blocking related content:

Facebook has blocked content, links and photos related to #FreddieGray and #Baltimore protests
Other Facebook users took their thoughts one step further, hinting that Facebook had decided to take a Big Brother approach to what could, or could not, be posted on its service: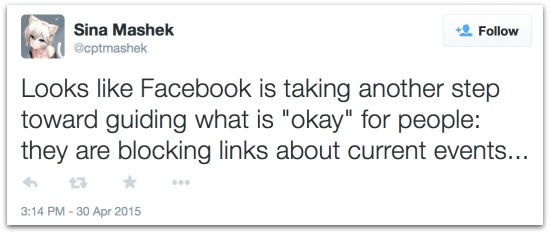 Looks like Facebook is taking another step toward guiding what is "okay" for people: they are blocking links about current events...
Explaining the issue, which now looks like it has been resolved, a Facebook spokesperson said:
An error in our system that helps block bad links on Facebook incorrectly marked some URLs as malicious or inappropriate. As a result, some existing posts were hidden, while other posts were blocked completely. We've resolved the issue and the remaining affected URLs are being unblocked. We apologize for the inconvenience this has caused.
The bug arose in Facebook's image-scraping system – which automatically pulls pictures from shared links – and was quickly reported on the Facebook developer forums, prompting the promise of a quick fix.
By this morning – at least for us at Naked Security – the problem seemed to have been fixed.
This issue comes a few months after the social network went down and was left completely unavailable for a few hours in January.
At the time, hacker group Lizard Squad claimed responsibility for an attack against both Facebook and Instagram.
But Facebook, which also owns Instagram, later denied the claims, saying that the outage had been caused by a "crash," caused by changes it had implemented itself.
Image of thumbs down courtesy of Shutterstock.