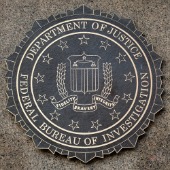 A former employee of JP Morgan Chase, the largest bank in the US, has been arrested by the FBI after a sting operation which resulted in several sets of bank account data including PINs being sold to informants and federal agents.
Details of the investigation have emerged after a deposition, given last week by an FBI special agent working on the case, was unsealed in conjunction with the arraignment of the man, Peter Persaud, in a Brooklyn court this week.
It seems the person Persaud originally approached to sell the data informed the Feds of the situation, and in later dealings with Persaud wore a wire or recorded phone calls to gather evidence. Persaud was also later introduced to an undercover FBI agent posing as an "underworld boss".
Several sets of bank details were handed over in late 2014 and early 2015 in return for up to $2500 a time.
The investigation wrapped up last month when Persaud apparently started offering a set of higher value accounts – a group of four with a total balance over $150,000, for between $16,000 and $17,000.
It's not clear what sort of role Mr Persaud held at the Brooklyn branch of the bank where he is known to have worked, but going by the tone of his conversations with the FBI informant recorded in the court documents, and the outfit worn at his custody hearing ("a multicolored striped sweater and black track pants") it seems unlikely that he was a high-flying executive.
Banks continue to lock down their computer systems against ever more sophisticated external attacks, and must also cope with insiders making both errors and intentionally inappropriate movements of money.
Among all this high-dollar-value activity it's easy to forget the small things, like the value of account data which can all too easily be accessed and exfiltrated from bank systems by just about anyone with the rights to wander around behind the counters, from clerks and cashiers to cleaners and maintenance crews.
When a few strings of numbers can be turned into hard cash by bringing the right buyer and seller together, it should be discouraging to the criminally inclined to learn that some of those buyers may well be in the pay of the authorities, and could get you into a whole heap of trouble.
Image of FBI courtesy of Mark Van Scyoc / Shutterstock.com.