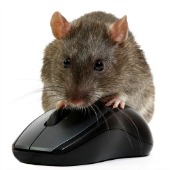 Royal Canadian Mounted Police on Wednesday arrested a 27-year-old woman who allegedly installed malware on people's computers.
Valérie Gignac, of the Quebec municipality known as Saint-Alphonse-de-Rodriguez, allegedly eavesdropped on private conversations and spooked her victims by talking to them through their infected computers' speakers.
She also allegedly logged on to extreme pornography websites after hijacking the computers, displaying adult content to people – including children – in Canada and other countries, the Mounties said in a statement.
Gignac allegedly posted videos on YouTube in which startled victims watch as she takes control of their infected computers.
Gignac is accused of being the owner of a Canada-based online hacking forum that has 35,000 users worldwide. The police seized the forum, in addition to Gignac's computer equipment.
Police say that Gignac appears to be an active part of numerous hacking forums, where she goes by aliases that include QUEEN, QUEEN SH0CKA, and UNSEENz.
She appeared in court on Wednesday and was charged with four counts related to the unauthorized use of a computer and mischief in relation to computer data under Canada's Criminal Code.
CBC News reports that Gignac was released on bail Wednesday afternoon, on the condition that she not use a computer or have access to the internet.
Her lawyer, Michel Leclerc, said his client wasn't trying to scam people to make money and that it was "just a bad prank."
She's expected to be back in court in June.
One of the YouTube videos that purportedly showed her scaring a family has been taken offline, but Business Insider managed to save a copy of it. Note that the video includes footage of obscenities being typed in.
The police noted that Gignac allegedly used a malicious software known as a remote-administration tool.
There are, in fact, legitimate remote-administration tools, including VNC, Microsoft's Remote Desktop for PCs, and various sysadmin tools for servers.
But then there are criminal tools, known as remote-access Trojans (RATs). The Mounties likely meant to accuse Gignac of using this type of RAT – the malware kind.
RATs let crooks gain complete control over targeted computers anywhere in the world, enabling them to turn victims' webcams on and off, to access banking or other personal information, to download new and potentially illegal content, or to use the victim's computer to commit additional crimes, such as being a zombie computer in distributed denial of service (DDoS) attacks.
Gignac allegedly ran a botnet: a collection of zombie computers that are remotely controlled by a crook.
Victims are typically infected when they fall for a rigged email, clicking on a link purporting to be a picture or video or disguised as a legitimate file, but which is in reality an installer for the RAT.
The Trojans quietly, insidiously slip onto victims' computers, often leaving no clue that a machine is infected.
To avoid getting your computer hijacked, your home invaded by creepy people spying on you, and having porn splashed in front of your kids, it's imperative to secure webcams, which are often installed with default passwords that are easy for crooks to guess.
But as we noted last week, after two more families fell victim to having their baby monitors hijacked, webcams aren't the only way that online marauders gain control of victims' webcams and computers.
Other potentially weak spots are the Wi-Fi router and the router configuration screens, as well as the multiple places where you need strong passwords: not just on the webcam, but also on your Wi-Fi and router.
Check out that baby monitor story above. It gives advice on how to secure not only babycams but the bigger home environment, routers, Wi-Fi, webcams and all.
It doesn't really matter if you're talking about an IP camera that's protecting your baby or one that's just hanging out on your computer, sans baby.
They're all potentially ripe for plucking when it comes to crooks with RATs – unless you RAT-proof the house!
Image of rat courtesy of Shutterstock.