Google Maps, how do we screw with thee? Let me count the ways*:
We love thee to the depth and breadth and height that our souls can reach, which, in the case of the Android icon urinating on an Apple icon last month, took up just a corner of Pakistan's Ayub National Park.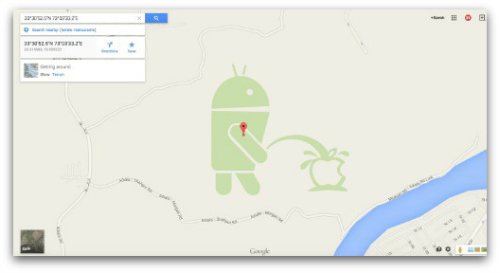 We also love thee freely… no, scratch that.
We did love you freely – in fact, a little too freely, given that Google's finally, temporarily pulled the plug on its crowdsourcing map-editing service, until it manages to set up moderation that will quash what it says is escalating map vandalism.
Google Map Maker is now showing this message.
Map Maker will be temporarily unavailable for editing starting May 12, 2015. We are terribly sorry for the interruption this outage might cause to your mapping projects. Please bear with us and plan your activities suitably.
That message links to a detailed explanation from Pavithra Kanakarajan and the Google Map Maker team that explains how one recent, "large-scale" prank – the peeing Android is logically the prime suspect here – caused Google to flip the switch.
The full message:
As some of you know already, we have been experiencing escalated attacks to spam Google Maps over the past few months. The most recent incident was particularly troubling and unfortunate - a strong user in our community chose to go and create a large scale prank on the Map. As a consequence, we suspended auto-approval and user moderation across the globe, till we figured out ways to add more intelligent mechanisms to prevent such incidents.

All of our edits are currently going through a manual review process.

We have been analyzing the problem and have made several changes. However, it is becoming clear that fixing some of this is actually going to take longer than a few days. As you can imagine, turning automated and user moderation off has the direct implication of very large backlogs of edits requiring manual review. This in turn means your edits will take a long time to get published.

Given the current state of the system, we have come to the conclusion that it is not fair to any of our users to let them continue to spend time editing. Every edit you make is essentially going to a backlog that is growing very fast. We believe that it is more fair to only say that if we do not have the capacity to review edits at roughly the rate they come in, we have to take a pause.

We have hence decided to temporarily disable editing across all countries starting Tuesday, May 12, 2015, till we have our moderation system back in action. This will be a temporary situation and one that we hope to come out of as soon as possible.

While this is a very difficult, short term decision, we think this will help us get to a better state faster. More importantly, we believe it is simply the right thing to do to all of you, our valued users who continue to edit with the hope that your changes might go live as fast as you've been used to.
Google introduced the online Map Maker tool in 2008 to enable users worldwide to upload new details and points of interest – such as new roads or parks, for example – to Google Maps.
It features tools for roads, railways, buildings, walking trails, bike paths, parks, lakes, and complex road geometry.
Opening up map-making to crowdsourcing has helped Google to fill in the details of its maps, particularly in areas where governments restrict distribution of such data in what are often less-developed regions.
As the Washington Post has reported, the Map Maker community has filled in the blanks on what were formerly uncharted swaths of territories, including details of North Korean territory such as monuments, hotels, hospitals, department stores, Pyongyang's subway stops, and even several city-sized gulags.
Besides this important work, crowdsourcing has also opened up Maps to jokers. Besides the bladder-voiding robot, the growing list of vandalism includes:
A giant cat, stretched 250 meters, from one side of Auckland's Hobson Bay Walkway over to where its head was nearly touching the northwestern section of the trail.
Two pranks that involved exploiting a loophole that allowed you to change a business listing's address after its creation: one where the vandal set up a joke business on the maps service, a snowboarding shop called "Edwards Snow Den", located at 1600 Pennsylvania Avenue – also known as the White House. The other: a listing for "freddy fazbear pizza", within the building that houses the US Department of the Treasury – presumably an allusion to the Five Nights at Freddy's horror video game in which an animatronic bear roams a pizza parlor after hours, murderously stuffing humans into a Freddy Fazbear suit.
A giant smiley face drawn onto Islamabad.
A Skype logo.
A star and crescent in Pakistan.
How did all these images make it onto the real Google Maps?
The problem lies in Google's approval process, which is based on trust. Map Maker edits from new users enter a queue for manual approval by "trusted" map makers.
Those trusted map makers earn that ranking by getting a certain number of approved edits under their belts, after which their map edits get auto-approved.
In fact, the user who created what Google says is the most recent incident was, as it said in its statement, "a strong user in our community" who "chose to go and create a large scale prank on the Map."
That means the user likely had auto-approval privileges before suddenly turning into a vandal.
Another recent map edit, just a few miles away from the desperate robot, was the message "Google review policy is crap", carved along with a frowny face into the map, suggesting the renegade user had a point to make.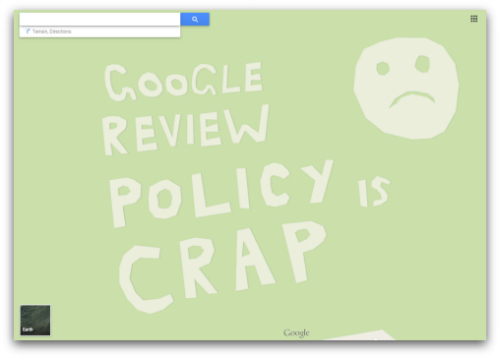 Google hasn't indicated how long it will take to overhaul the system, but like it said in its official statement, it's certainly going to take more than a few days.
In the meantime, there will be quite a backlog of map edits to wade through.
That will be frustrating, I'm sure, to legitimate map makers.
But hopefully, the drop-off in splattery robots, cartoony cats and other joke images will make up for it.
*With apologies to Elizabeth Barrett Browning.