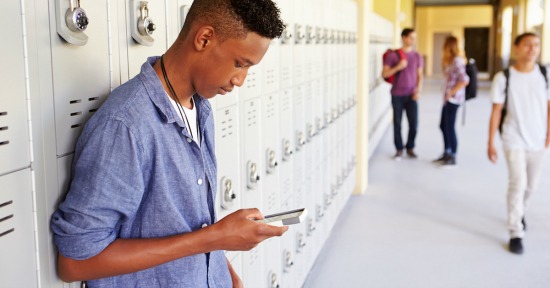 Twenty middle and high-school students in the US are facing charges of privacy invasion after investigators swooped in and collected 27 phones, finding numerous photos of nude and partially nude female students being swapped by male students via text message and social media.
According to the office of the prosecutor in Cape May, New Jersey, the sexting investigation is centered on the Lower Cape May Regional High School and the Richard M. Teitelman Middle School.
On 23 April, school officials were tipped off by a female student who told them that naked photos of a friend were being texted to male students around the school.
The subsequent investigation has led to 19 juveniles and 1 adult (as the student is 18 years old) being charged with Invasion of Privacy, which is a third-degree crime.
The maximum penalty for third-degree crimes is five years in prison for adult offenders and up to two years in a juvenile detention facility for those under the age of 18.
Having said that, maximum penalties are seldom imposed, particularly with first-time offenders.
Cape May County Prosecutor Robert L. Taylor said in a release that students have got to realise that passing around naked images can have serious repercussions, including prosecution:
It is imperative that these students understand the severity of their actions and the impact that their actions have on themselves, their victims, and the community. Students in other Cape May County schools should be aware that these actions are criminal and can lead to prosecution.
Unfortunately, sexting, and the invasion of privacy it so often brings, has become normalised in children's lives.
According to a 2013 poll of 500 children conducted by ChildLine, 60% had been asked to send a sexual image or video.
Of those polled, 38% had complied.
Those numbers are a few years old. It's probably safe to presume that the situation has grown worse.
But even dated figures point to a plethora of images that can be used for sexual cybercrime directed at kids, including sextortion, cyberbullying or the swapping of child abuse images by paedophiles.
In fact, around the same tine that the poll results came out, the Internet Watch Foundation (IWF) said that it had tracked a "marked rise in self-generated sexual content featuring young people".
Some of those sexts are intercepted and sold, said Susie Hargreaves, chief executive of the IWF:
A snapshot study conducted by IWF analysts over a 47-hour period found well over 12,000 self-generated images and videos of young people online. Most recently, we see images and videos being gathered together and sold for commercial gain.
Sexting images can also be used by children to cyberbully each other, which, in turn, has resulted in numerous suicides or suicide attempts.
Beyond the considerable harm that can come to sexting victims after losing control of their nude photos, there are also consequences for young people who share the images, given that they run the risk of facing legal charges, and in certain cases the potential for being labeled a registered sex offender.
With that label can come difficulty in getting hired or attaining housing, licensing, and educational financial benefits.
Anybody who plans to share a nude photo without a subject's permission should seriously think about backing off from hitting that "send" button.
It's a simple act, pressing that button.
It's far too simple, given that it has the potential to haunt people for years to come.
If you're a parent, you might like to check out our tips to help keep your kids safe online, as well as the apps you should be aware of.
Image of student checking phone courtesy of Shutterstock.