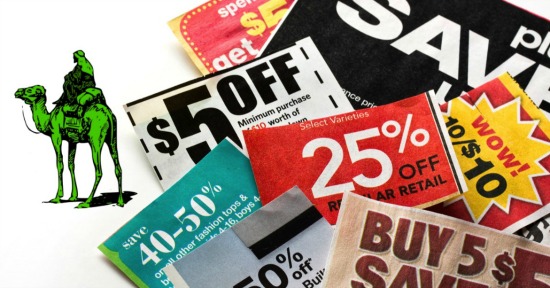 US law enforcement's infiltration and takedown of the Silk Road underground marketplace has turned up yet another court case, with a New Orleans man charged with selling counterfeit shopping coupons through the site, and its successors, on an epic scale.
30-year-old Beau Wattigney has been indicted in the Eastern District of Louisiana on one count of conspiracy to commit wire fraud and one of conspiracy to commit trademark counterfeiting.
Prosecutors claim Wattigney is behind a long-running series of coupon scams, going by online nicknames including PurpleLotus, GoldenLotus, MoxDiamond and NickMode.
Over a period of at least 18 months, from May 2012 to November 2014, Wattigney is alleged to have sold thousands of counterfeit coupons targeting at least 50 different companies. According to the indictment, in just one year over 2000 distinct sales raked in more than $75,000.
The Justice Department release estimates the scam could have meant more than $1 million in losses for the businesses involved, but one fraud expert told Wired the losses could be more like "tens of millions".
The same Wired report claims that as well as pre-made fake coupons, the "PurpleLotus" dealer believed to be Wattigney also sold advice on spoofing coupons, including videos walking through the process of generating barcodes and other details and pasting them into blank coupon forms.
The scam targeted both coupon distribution systems, including Hopster, Coupons.com, SmartSource and RedPlum, and specific brands and outlets, including WalMart. Later iterations began offering bespoke coupon creation services, making new coupons on-the-fly to cover goods and services of the buyer's choice.
It's not yet clear exactly how Wattigney was tracked down and identified, but much of the information listed in the indictment document refers to messages and forum postings made via the Silk Road, making it pretty certain that the embedding of undercover agents in the Silk Road community, and the later takeover of the Silk Road servers, played a major part in the investigation.
The coupon scam continued running after the takedown of the Silk Road, at first on the short-lived successor Silk Road 2.0 and later on other hidden trading sites.
Since the initial takedown of the original Silk Road in October 2013, we have seen numerous related arrests, indictments and trials, leading with the conviction of founder Ross Ubricht.
Wired recently published a lengthy two-part study of Ubricht's rise and fall.
A leading moderator on the site, Australian Peter Nash, entered a guilty plea a few months ago, shortly before a drug dealer operating through the site received a five-year sentence.
The people trying to repeat Ubricht's success didn't last long either, with the Silk Road 2.0 being robbed of its Bitcoin in early 2014, the suspected kingpin Blake Benthall arrested later that year and a deputy scooped up in early 2015.
Even some of the agents working on the case have been caught out trying to scam Bitcoin out of the people they were investigating.
If found guilty, Mr Wattigney could face some serious trouble, with the trademark counterfeiting carrying potential sentences of five years jail and $250,000 fines, while wire fraud charges can easily lead to 20 years in prison and possibly longer.
Image of coupons courtesy of Shutterstock.