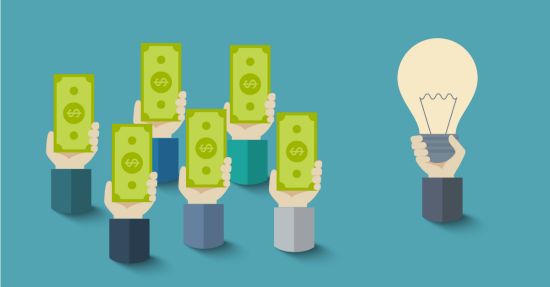 The Federal Trade Commission (FTC) has just settled with a man who pocketed $122,000 in contributions from 1200 backers on the crowdfunding site Kickstarter, while deceiving backers about his intention to deliver on the project and promised rewards.
After reaping "unjust enrichment" from his backers, the defendant didn't use the funds primarily to produce the board game he promised, instead he used the funds to pay for unrelated personal expenses including his rent and moving across the US to Oregon, according to the FTC complaint.
The FTC said this was the US consumer protection agency's first legal case involving crowdfunding, which it considers a burgeoning area of financial technology that needs closer scrutiny.
Kickstarter, the most popular crowdfunding platform, offers both empowerment for entrepreneurs, and risks for backers.
The idea behind Kickstarter, Indiegogo and other crowdfunding platforms is that project creators who might not be able to secure funding from investors can seek out contributions in small amounts from thousands of regular people.
If a Kickstarter project doesn't meet its fundraising goal, contributors get their money back. If it does, the project creator is expected to return the favor by giving their backers rewards such as prototypes or copies of an artistic work.
One of Kickstarter's most successful funding projects, virtual reality start-up Oculus RV, raised $2.4 million in crowdfunding and was eventually bought by Facebook for $2 billion.
Of course, the vast majority of Kickstarter fundraisers aren't nearly as big as Oculus – Kickstarter says only about 2000 projects raised more than $100,000, and just 105 projects pulled in $1 million or more.
Kickstarter's project "success rate" is only about 38% – the rest have never reached a deadline for delivery set by the creator.
So what happens to successfully funded projects that fail or don't deliver promised rewards by the deadline?
It's a murky area the FTC has stepped into, with hopes of stopping unscrupulous project creators who take backers' money but don't hold up their end of the bargain.
A doomed game, Kickstarter, and the FTC
The first crowdfunding case settled by the FTC involved a proposed board game called "The Doom That Came to Atlantic City" – based on the popular "Monopoly" game, but with characters, artwork and themes inspired by the fiction of occult author HP Lovecraft.
Project creator Erik Chevalier, working under the company name The Forking Path, Co., described the project on his fundraising page as a "light hearted Lovecraftian game of urban destruction," with artwork created by "three exceptional talents" – artists Lee Moyer, Keith Baker and Paul Komoda.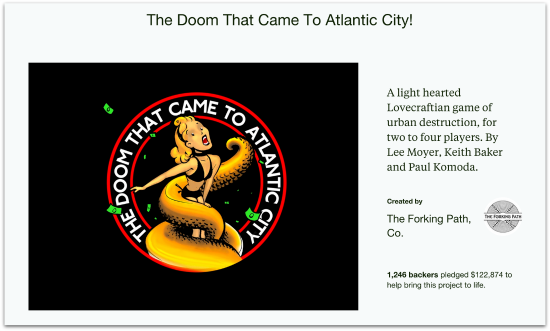 Chevalier pledged that backers of $25 to $75 would receive a copy of the game board, while contributors of amounts over $75 would also receive game figurines cast in pewter.
Contributors of $1000 were promised a custom game card based on their likeness; backers who donated $2500 were promised "an afternoon of gaming for you and your BFF" with the game designers and a credit in the game rulebook.
After a highly successful fundraising period in May and June 2012 in which he raised four times the original $35,000 goal, Chevalier informed backers in multiple updates that he was making progress on the game, which he anticipated would be delivered in October or November 2012.
Several months after the deadline passed, Chevalier announced that he was canceling the project without delivering the final game or rewards.
In a July 2013 update titled "Terminus," Chevalier offered excuses and promises to begin refunding backers, but would not commit to a timeframe for refunds due to what he described as his own financial hardship.
As a result of Chevalier's inability to pay, the FTC settlement suspended a requirement that he pay back those he hadn't already refunded – about $111,000 – an amount that will come due immediately if he is found to have misrepresented his financial condition.
The settlement bans Chevalier from making misrepresentations about future fundraising campaigns and requires him to dispose any information he obtained from backers.
In a blog post, FTC staff attorney Lisa Weintraub Schifferle explained the basis of the case in simple terms:
The FTC's complaint says that Chevalier's promises were deceptive. The case offers a classic lesson in consumer protection law: when you make a promise, you have to deliver.
Backers beware
Kickstarter has successfully funded more than 86,000 projects since its founding in 2009, out of more than 230,000 campaigns launched.
But there are many examples of projects with successful fundraising campaigns that later went bust – many of them in the gaming category.
A famous example involves the author Neal Stephenson, who raised $526,000 in a 2012 Kickstarter campaign for a video game that he never completed.
The gaming website Gamespot has been tracking Kickstarter campaigns for games that raised more than $75,000 – and out of 186 successfully funded projects, only 63 have made it to market, while 10 have been classified as failures.
A big budget campaign by a company called Arkami raised $3.5 million for a password management USB device called MyIDkey that never materialized.
Although the FTC's "Doom" game case may signal an intent to pursue legal action against deceptive crowdfunding, there isn't really any protection for backers of projects that go belly up.
Kickstarter maintains that it is the responsibility of project creators to complete their projects or refund backers – and Kickstarter doesn't guarantee results or "investigate a creator's ability to complete their project."
In the end, both Kickstarter and the FTC have similar advice for potential backers that essentially comes down to this: buyer beware.
Image of crowdfunding concept courtesy of Shutterstock.