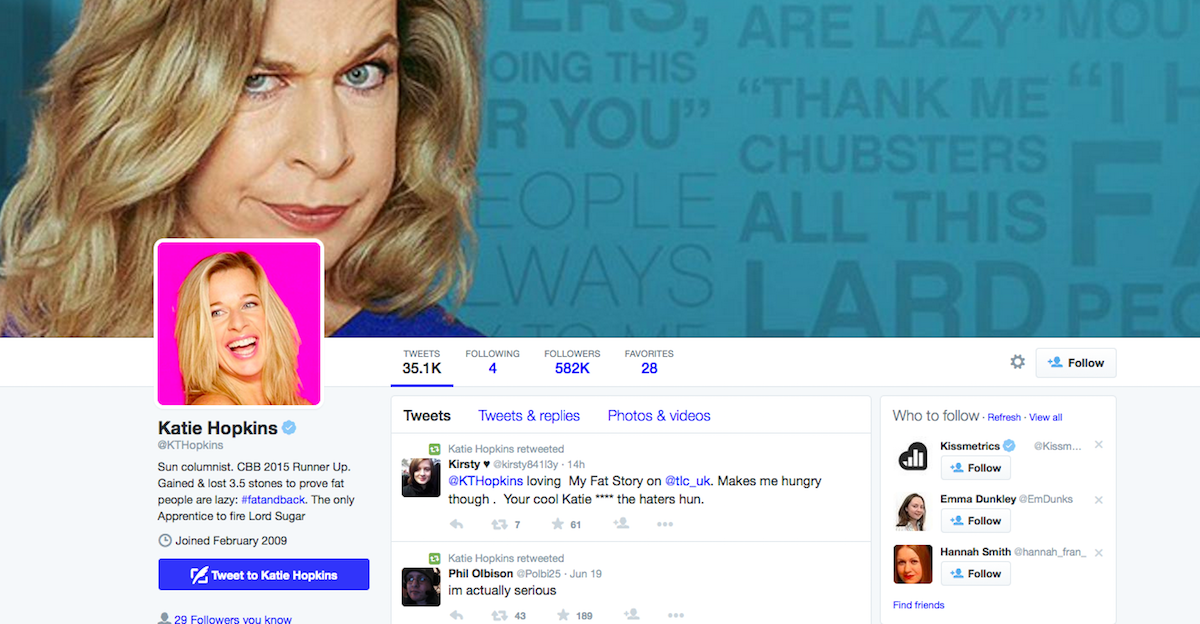 Outspoken TV personality Katie Hopkins is no stranger to controversy but on Sunday the tables were turned when the former Celebrity Big Brother contestant's Twitter account was hacked.
At around 9.30am, Hopkins' profile picture was changed to a less flattering one and her Twitter screen name was altered to read 'jiggly jaws katie'. Her bio was also pointed toward two Twitter accounts thought to be linked to the hackers.
Whoever was behind the account takeover then began pumping out a slew of tweets about her alleged sexual preferences which culminated in a claim that they were in possession of a sex tape featuring the former Apprentice star:
new sex tape by katie hopkins in her email - 200 rts and we'll post the link
According to the Daily Mail and The Independent, two different links were later tweeted – both of which led to porn sites.
Interestingly, the hacker (or hackers) then changed Hopkins' screen name to 'Phil Olbison' before unfollowing everyone and deleting all of her tweets.
They then proceeded to make disparaging comments about Hopkins before saying:
Awell looks a like Katie Hopkins been sneak dissin too much
Shortly after the attack, Hopkins' name became a trending topic on Twitter as fans flocked to discuss the incident.
The hacker finished off by suggesting the attack was fair – presumably because of the numerous controversial statements made by the Sun columnist, including likening migrants to cockroaches, calling an autistic child names, and revealing how she judged her daughter's classmates according to their names – and tweeted:
RT this if you think Katie deserved this. ;]
At the time of writing, Hopkins, who earlier this year admitted she fears being murdered over her controversial views, appears to have regained at least partial control over her account – her screen name and display picture are back to normal and her account shows 35,100 tweets have been issued, though only a small handful are currently visible.
Whatever your opinion is on Katie Hopkins, having your account taken over by a hacker is no fun. That's why we've previously given you tips on how to improve your Twitter security and privacy.
It's not just celebrity Twitter accounts that get hacked, so make sure yours is as secure as possible.
Image from @KTHopkins on Twitter.