In the past month, we've published a number of videos and pictures that just happen to show people wearing some very cool T-shirts.
For example, when Naked Security won (ahem) the Grand Prix Prize for the Best Overall Security Blog at the recent EU Blogger Awards at Infosec in London, we couldn't resist a team photo.
Two of us were kitted out in Release the Kraken shirts: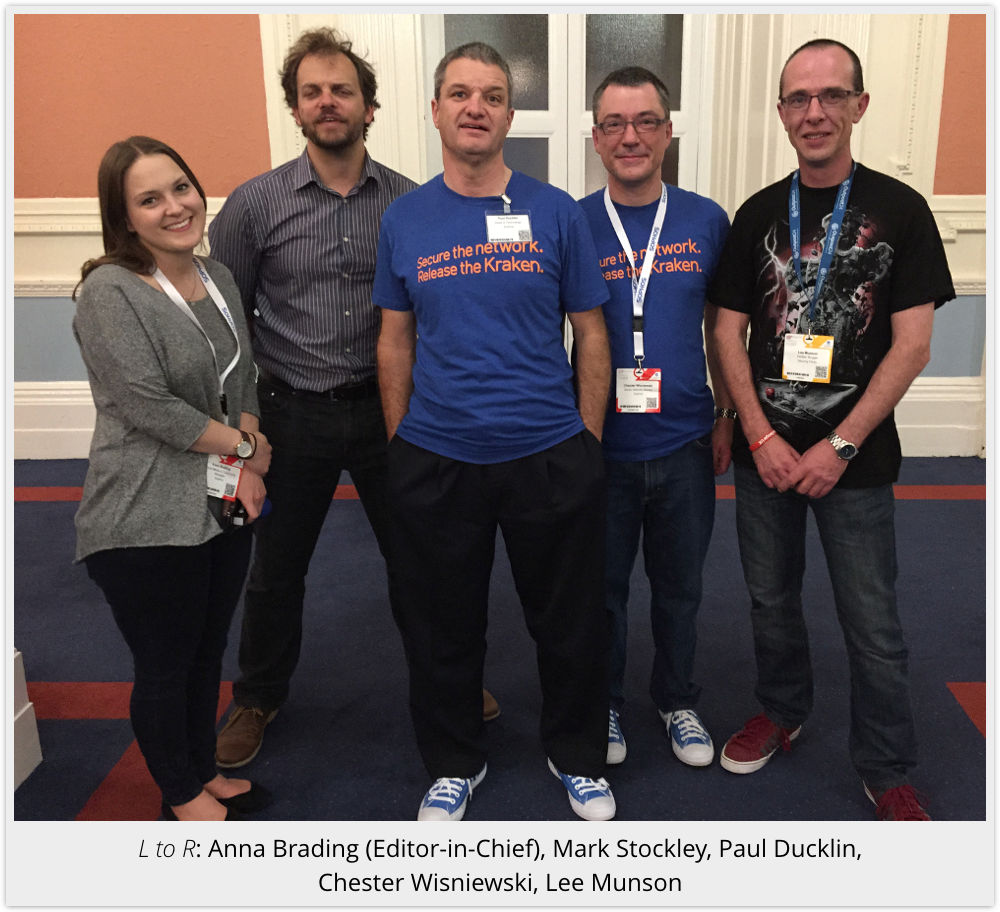 During the Infosec show, we made a fun video, with plenty of T-shirts on view:
Can't view the video on this page? Watch directly from YouTube.
And in the most recent episode of our weekly 60 Second Security video (shameless plug!), we featured our favourite T-shirt, and even entitled the whole video after the T-shirt's theme, Encrypt Everything (great idea, by the way).
As a result, we've had a steady stream of requests from people asking us, "Where can I get one of those?"

So we thought we'd let everyone know: you can buy a whole bunch of cool merchandise from the Sophos Store.
Just head over to https://shop.sophos.com/ and take a look.
From cat calendars, through Advance Fee Fraud beanies and Reboot hats to Blue Screen of Death socks (true!), you'll find lots of fun stuff.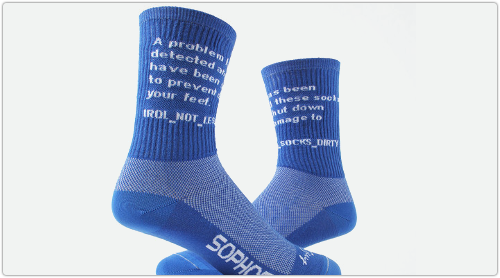 If you're feeling adventurous, you can even order Sophos backpacks, tents and surfboards.
Of course, you can buy for other people, too – and we can assure you (from when we have given away some of our stash as freebies at trade shows) that you will not fail to bring a smile to the hardworking IT staff in your own office if you gift them with, say:

(To the IT heros who receive gifts from the Sophos Store, please try to be gracious. We know you deserve a $950 surfboard for resetting the CFO's password during your own wedding on Christmas Day, but if all you get is a $2 sticker saying For Those About Code, We Salute You, remember: it's the thought that counts.)
→ Just so you know: shipping is free in the US on orders over $20, or $3 otherwise. Orders outside the US are shipped at a flat $15, so just order loads of merchandise at once. We ship to all planets in the solar system except Venus (too hot) [*], and to all countries on earth except for a short list that's maintained on the site.
[*] Also excluding Mercury, Mars, Saturn, Jupiter, Neptune and Uranus (too far), and Pluto (yes, we're sorry about Pluto, too).