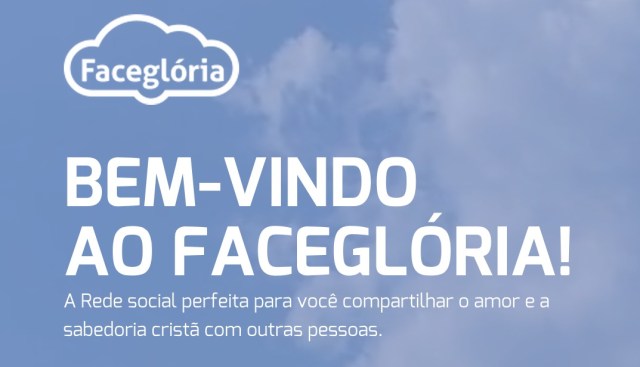 Welcome to Faceglória, the Brazilian Evangelical take on social media that opts for Gospel music and billowing white clouds instead of the moral swamps our Facebook pages have turned into.
Here you will find no swearing.
No selfies in that skimpy little bikini, no revenge porn.
No erotic content whatsoever, for that matter, nor anything else that all of us ungodly Facebook "sinners" are into.
Don't click "Like" – click "Amen!"
That's not an exaggeration. Users don't "Like" things on Faceglória. Here, you really do click "Amen."
As co-founder Attila Barros told AFP, the goal is simple:
We want to be morally and technically superior to Facebook.
In Brazil, the country with the world's largest Catholic population and one in which Evangelicals are an increasing force, Facebook has proved to be simply too violent and porn-filled, he said:
On Facebook you see a lot of violence and pornography. That's why we thought of creating a network where we could talk about God, love and to spread His word.
So three years ago, Barros and three colleagues who are similarly devout Christians decided there was a market opportunity for a cleaned-up version of Facebook.
The four were working at the mayor's office in Ferraz de Vasconcelos, near Brazil's financial capital, São Paulo.
The mayor liked the idea so much, he gave them about $16,000 (about £10,200) out of his own money to set up a business, and thus was Faceglória born.
The social network immediately proved popular, garnering 100,000 users in its first month, the founders claim.
Anyone can sign up, but the site's currently only offered in a Portuguese version.
But Acir dos Santos, the mayor of Ferraz de Vasconcelos, says they're not stopping in Brazil: they've purchased the domain in English and "in all possible languages," and the team is hoping that a mobile app also helps to extend their reach worldwide:
In two years we hope to get to 10 million users in Brazil. In a month we have had 100,000 and in two we are expecting a big increase thanks to a mobile phone app.
To be one of those users, you have to watch your Ps and Qs. Actually, you have to watch your booze and your cigarettes, too, since selfies get scrutinized for possible removal.
Other things that face removal from a team of 20 volunteers that patrol the site: potentially risqué selfies and bikini shots, and, of course, the aforementioned swearing.
In fact, there's a list of about 600 forbidden words. Homosexual activity depicted in videos is also verboten.
This isn't an uphill battle, by any means. One of the volunteers, Daiane Santos, told AFP that Faceglória users aren't into erotic promenading:
Our public doesn't publish these kinds of photos.
This isn't the first social media site tailored to a given religion.
As the BBC reports, a social network for Muslims launched in 2013 and currently has around 329,000 members.
The site, named Ummaland, includes "extended privacy settings" for women and daily Islamic inspirational quotes.
At the time of its inception, co-founders Maruf Yusupov and Jamoliddin Daliyev said that the site was based on Islamic values:
We are creating Ummaland on Islamic values, no small talk, no boasting, no gossiping and backbiting but focusing on the message that really matters. We encourage every user to ponder upon if the message they share will benefit Ummah [Arabic for "community"] or not. If not, it is better to be silent.
From a secular perspective, the treatment of erotica and gay content as "sinful" is increasingly unacceptable.
But the idea of a social media site that's squeaky clean – one that bans boasting or gossip or revenge porn or other myriad forms of nasty – certainly has its appeal.
Can we look forward to someday seeing a whitewashed version of Facebook that's not aimed at a particular religion and which doesn't ostracize gay people but simply opts for silence over attacks on the community?
After all, in the US, gay people are making enormous strides in being accepted as an integral part of the community, covered by the Constitution to the same extent as all citizens.
If a secular version of a squeaky clean Facebook came into being, would such a presumably highly censored creature flourish?
Readers, would you pull yourself out of the swamp in favor of a version of Faceglória or Ummaland that caters to your religious, anti-religious, or secular values?
Please let us know in the comments section below.
Image of enter button cross courtesy of Shutterstock.com .