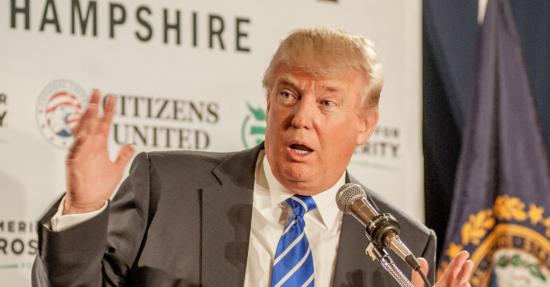 Donald Trump is hard to ignore, but could he perhaps be erased?
On Wednesday, Trump's Wikipedia page was vandalized twice by editors who tried to delete the entry about the billionaire business mogul, reality TV star, and US presidential candidate.
Trump is a magnet for media attention, and has a tendency to court controversy and criticism with brash statements that, well, aren't too classy.
Since announcing his campaign, Trump has referred to Mexican immigrants as "killers" and "rapists," and said Senator John McCain – a decorated veteran and a prisoner of war for five years in Vietnam – is "not a war hero."
We don't know whether the edits on Wednesday were a form of protest or a practical joke, but Trump's Wikipedia page was quickly restored – within minutes both times.
According to the page's revision history, the first vandal blanked the entire page by deleting all the content.
A couple of hours later, another editor removed all of the content and replaced it with one line:
Lets be fair, nobody cares about him.
People say a lot of things about Trump, but it's hard to argue that "nobody cares about him" – on Wikipedia, his page has been viewed over 900,000 times in the last 30 days.
Wikipedia is of course a great example of crowdsourcing knowledge, and anyone can edit a Wikipedia entry – editing by many people can create a more well-rounded story or correct errors, a kind of built-in accountability.
But its open nature makes Wikipedia ripe for abuse such as sock puppetry and vandalism.
The first vandal, user RJP5322, was blocked for three days; the second vandal, user Trampster1442, wasn't.
Trampster1442's profile says he is "a British fellow who occasionally dabs in helping Wikipedia to be a better place."
Sorry Trampster, we'd argue that vandalizing Trump's page isn't making Wikipedia "a better place" – besides, Trump has faced far worse consequences for his offensive rantings.
Trump's comments about Mexican immigrants were met with a swift backlash – Macy's department stores no longer sell Trump's clothing line, and his Miss USA beauty pageant was dropped by TV networks NBC and Univision.
In another attempt to sideline Trump, the Huffington Post announced it would no longer cover Trump's campaign on its politics page, but in its entertainment section.
He's suffered other indignities and embarrassments: in 2013, Trump's Twitter account (where he frequently lashes out at critics) was hijacked.
Hackers also breached the point-of-sale systems at several of Trump's luxury hotels earlier this year and stole an unknown number of guest payment card details.
Yes, Trump is a prime target for online attacks.
But if anyone is going to take Trump down, it will probably be himself.
Image of Donald Trump courtesy of Andrew Cline / Shutterstock.com