Somebody's promising "the most exhilarating water event to ever hit" the UK city of Hull.
But rather than a free ride on a steep water slide with a pool to splash into at the end, as the Facebook page photo enticingly shows, the event smells awfully fishy.
One commenter dove right into the bogosity:
How can this be happening in Hull? There are no public open air pools.
Facebook is reportedly hosting 50 event pages in UK cities, all offering the chance to ride a giant outdoor slide on 29 August – one of the country's bank holiday weekends – and promising that the event has free admission.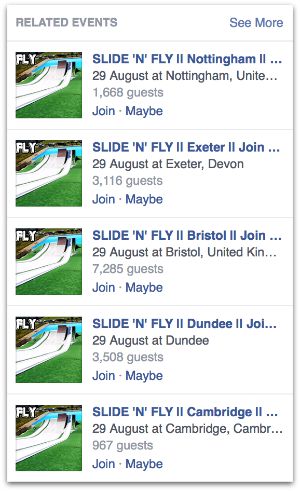 That's right, all you have to do is show up and "be ready for the ride of your life!"
One more thing: make sure to "JOIN, SHARE the Event & INVITE your friends!"
Mind you, no details on where or when the fun will happen are forthcoming.
Thousands of people have signed up, but the Express reports that local councils haven't received any applications to stage a water slide event and have warned it could be a scam to gather personal data.
Express.co.uk quoted a spokesperson from Bristol City Council:
We have not received any applications relating to this event and it does not have permission to go ahead on any Bristol City Council land.
Manchester councillor Pat Karney told the news outlet that an internal alert had been sent around the council over the Facebook advertisement, which he called "suspicious" and which he said sounds like an expedition to get people's personal information:
I would be very concerned that this could be a way of obtaining and selling on the details of people simply hoping to have some fun over the bank holiday.
The water slide photo turns out to have been stolen from a promotional video for a bona fide company called Ohio Dreams: an action sports camp in the US that hosts its own "Slip 'N' Fly" events.
The photo thieves and possible scammers adopted the similar Facebook account name of "Slide 'n' Fly".
Ohio Dreams's media and marketing manager, Justin Travis said he was shocked to learn that the company's marketing materials had been ripped off and said that the company was "frustrated" by the "unfortunate" use of its images without permission.
Unfortunately, this isn't the first time something like this has happened to the company, Travis said, given its easy-going way of handing out photos to the many inquirers who are interested in copying their water slide model or working with the company:
We often send promotional pictures to people who are interested in working with us to produce a water slide for an event.
Travis has reported the suspected scam to Facebook, but he was told that the company wouldn't remove the pages since they'd been created outside of the US and didn't violate the company's image copyright rules. 
He said that he's called on UK authorities to shut the pages down.
In the meantime, there are loads of people who well might have been taken for a ride by signing up for the event and sharing it with their friends, and we're not talking about the slip-slide splashy kind of ride: we're talking about the kind of ride where you well might up getting the living daylights spammed out of you.
So until we hear otherwise, let's consider it safe to add this "free" water slide to the list of other "if-only" come-ons promised by spammers – you know, like spaghetti trees, free concert tickets, Facebook's perennial spring cleaning closure, and all the mind-bending weirdness in comment spam.
Want to steer clear of sliding down into the muck of a Facebook hoax?
Check out our tips to help avoid Facebook hoaxes.
In a nutshell:
Stop. Think. Apply some critical reasoning. For example: free water slide rides for one and all? Uh, no. Nor will there likely be a Hummer to drive you there, and precious scant chance Bill Gates will give you $5000.
Don't forward hoaxes. You might be tempted to share an opportunity like this just on the off chance that it could be true. Please don't. If you share junk offers, your credibility plummets as far as your friends are concerned. Plus, you're handing their contact information over to people who well might be spammers.