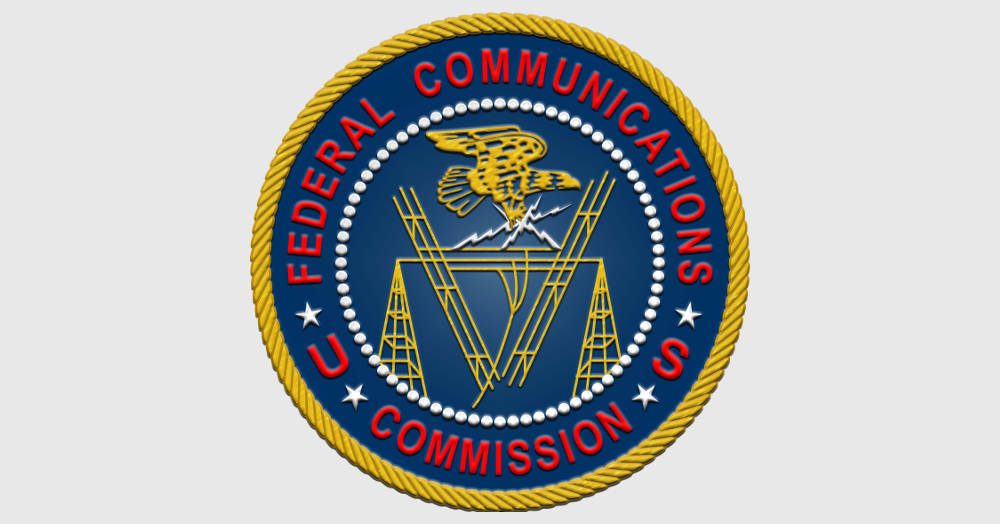 The US Federal Communications Commission (FCC) has fined a telecommunications company a whopping $750,000 (nearly £500,000) for blocking consumers' Wi-Fi "personal hotspots" at convention centers around the country.
The FCC announced the fine on Tuesday, saying that Smart City Networks had been blocking personal hotspots being used by convention visitors and exhibitors who used their own data plans rather than paying Smart City "substantial fees" to use its Wi-Fi service.
Most modern mobile phones have a connection-sharing option (personal hotspot on iOS, portable hotspot on Android and internet sharing on Windows Phone) that lets you hook up one or more devices to the phone via Wi-Fi, and then connect onwards to the internet via the phone's 3G or LTE data connection.
The FCC's release quotes Travis LeBlanc, Chief of its Enforcement Bureau:
It is unacceptable for any company to charge consumers exorbitant fees to access the Internet while at the same time blocking them from using their own personal Wi-Fi hotspots to access the Internet.

All companies who seek to use technologies that block FCC-approved Wi-Fi connections are on notice that such practices are patently unlawful.
The company's response: "We didn't know that!"
Smart City said in a release that it hadn't known that it was against FCC rules to use standard, out-of-the-box technology in order to prevent wireless devices from disrupting the operations of neighboring exhibitors on convention floors, having received no prior notice before the FCC contacted it in October 2014.
That's also when the FCC slapped Marriott with a $600,000 fine (nearly £400,000) for blocking Wi-Fi access at its Gaylord Opryland Resort and Convention Center in Nashville, Tennessee.
Marriott didn't go down without a fight: it banded together with the American Hotel and Lodging Association to try to talk the FCC into changing the rules and allowing it to keep blocking personal hotspots.
Marriott gave in and stopped blocking hotspots in January 2015, although it said at the time that it was going to keep on trying to get the FCC's blessings on blocking.
The hotel chain maintained that it hadn't intended to block personal hotspots in guests' rooms or in lobbies, but that it was asking the FCC to allow the practice in conference rooms or other meeting spaces.
"It's all about Wi-Fi security," Marriott said: specifically, ensuring that guests using its Wi-Fi were protected from rogue wireless hotspots that it said could degrade service, from "insidious cyber-attacks", and from identity theft.
"Riiiiight," skeptics said, "it's about security, not about what the FCC said was a charge of $250 to $1,000 per device to get onto the internet at a Marriott property."
For its part, Smart City said that blocking hotspots resulted in "significantly less" than 1% of all devices being deauthenticated and that these same technologies are "widely used by major convention centers across the globe as well as many federal agencies."
While Smart City thinks it has legal standing to fight the fine, its president, Mark Haley, said in the company's release that the battle would be too costly and too much of a distraction.
But even if Smart City thinks it might have had a chance to fight, given that its case goes back to 2014, there's no way to say "I didn't know that" any more.
Back in January 2015, the FCC published DA 15-113A1, its first Enforcement Advisory of the year.
Let's just say that this notice didn't exactly mince its words: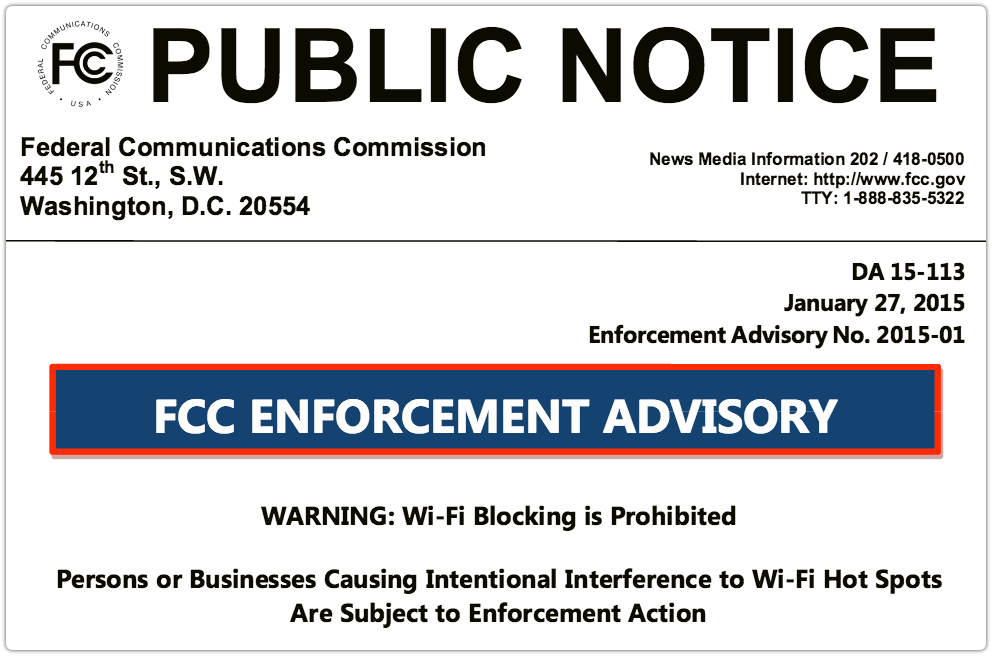 WARNING: Wi-Fi Blocking is Prohibited
Persons or Businesses Causing Intentional Interference to Wi-Fi Hot Spots Are Subject to Enforcement Action