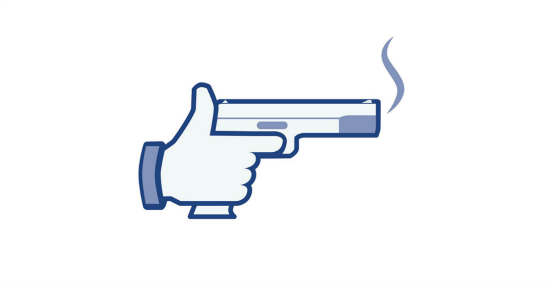 Two men are being held without bail after allegedly making online threats of violence against attendees of the Pokémon World Championships, held in Boston this past weekend.
According to prosecutors, Kevin Norton, 18, and James Stumbo, 27, both of Iowa, made threats in Facebook chatrooms, where others referenced "Columbine pt 2," "another Boston massacre," and "Boston bombing."
On Wednesday, 19 August, Stumbo posted a photo on a Facebook group page, called Mayhem Pokemon Crew, showing a shotgun and AR-15 rifle on the trunk of his car and commented:
Kevin Norton and I are ready for worlds Boston here we come!!!
While their motive in threatening violence is unclear, Motherboard reported that Stumbo and Norton were invited to attend the championship event as participants.
In the comments on the Facebook post (seen in a screenshot captured by Motherboard below), Norton responded to a group member wishing the two good luck saying: "With killing the competition?"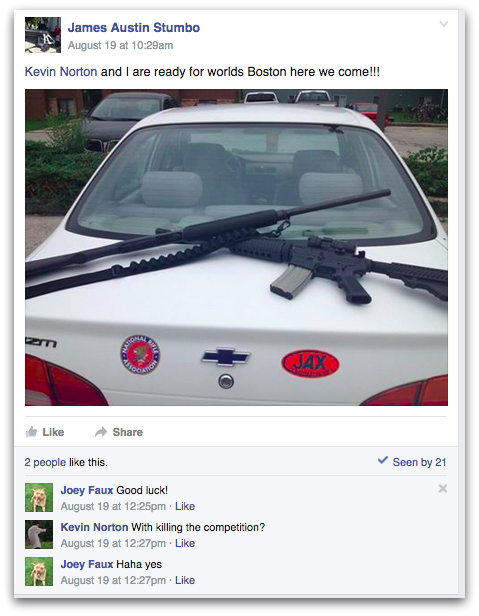 According to prosecutors, Norton also made a threat when barred from accessing a chatroom for bullying another individual, allegedly saying:
Oh, ok, that's fine then I will just shoot him on Friday thanks.
The Pokémon Company International said members of their "community of players" tipped them off to the threats.
The Pokémon Company alerted authorities at the convention center in Boston, who then went to Boston police, according to a statement from the Pokémon Company:
Prior to the event this weekend, our community of players made us aware of a security issue. We gathered information and gave it as soon as possible to the authorities at the John B. Hynes Veterans Memorial Convention Center who acted swiftly and spearheaded communication with the Boston Police Department. Due to quick action, the potential threat was resolved. The Pokemon Company International takes the safety of our fans seriously and will continue to ensure proper security measures are a priority.
As the Boston Globe reported, police and private security were on heightened alert at the convention center, where more than 1000 Pokémon fans had gathered for the championship competitions.
Norton and Stumbo were caught by private security guards attempting to enter the event on Thursday, 20 August, and were given a "trespass order" by Boston police, barring them from the event.
While speaking with police officers, Norton allegedly made statements that the men had driven from Iowa in Norton's 2002 Chevy Prizm with a shotgun and a rifle in the vehicle, prosecutors said.
After impounding Norton's car, police released the two men until they could get a search warrant, "confident the public was in no danger," according to the Globe.
With a warrant to search Norton's car, police discovered a 12-gauge Remington shotgun allegedly belonging to Norton, an AR-15 rifle belonging to Stumbo, hundreds of rounds of ammunition, and a hunting knife (seen in the photo below).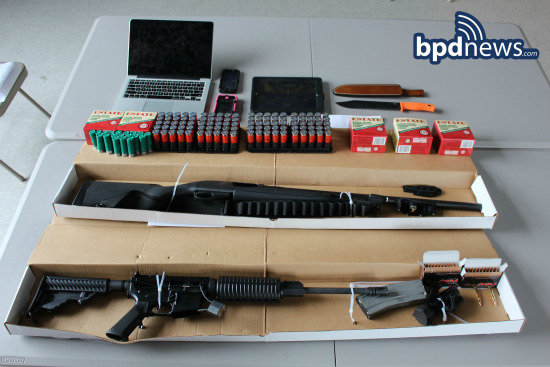 Both men were arrested at their motel Saturday, 22 August, by Boston police with the assistance of members of the Saugus Police Department, along with agents from the FBI, and the Department of Homeland Security.
They were charged with unlawful possession of a firearm, unlawful possession of ammunition, and other firearm related charges, Boston police said.
At their arraignment in Boston on Monday, Norton and Stumbo were ordered held without bail pending a dangerousness hearing.
Norton and Stumbo are not currently facing charges for any threats they allegedly made online, prosecutors said.
It might be easier for prosecutors to convict the pair on weapons charges than prosecute them for online threats – the fact that Norton and Stumbo's statements on Facebook and in chatrooms were interpreted by others as threats might not be enough in the eyes of the law.
The US Supreme Court has previously ruled that it must be shown that online threats were made with the intention to carry them out.
Image of Facebook "like" hand with gun courtesy of Shutterstock.com . Stumbo Facebook post screenshot courtesy of Motherboard. Photo of weapons allegedly found in Norton's car courtesy of Boston police.