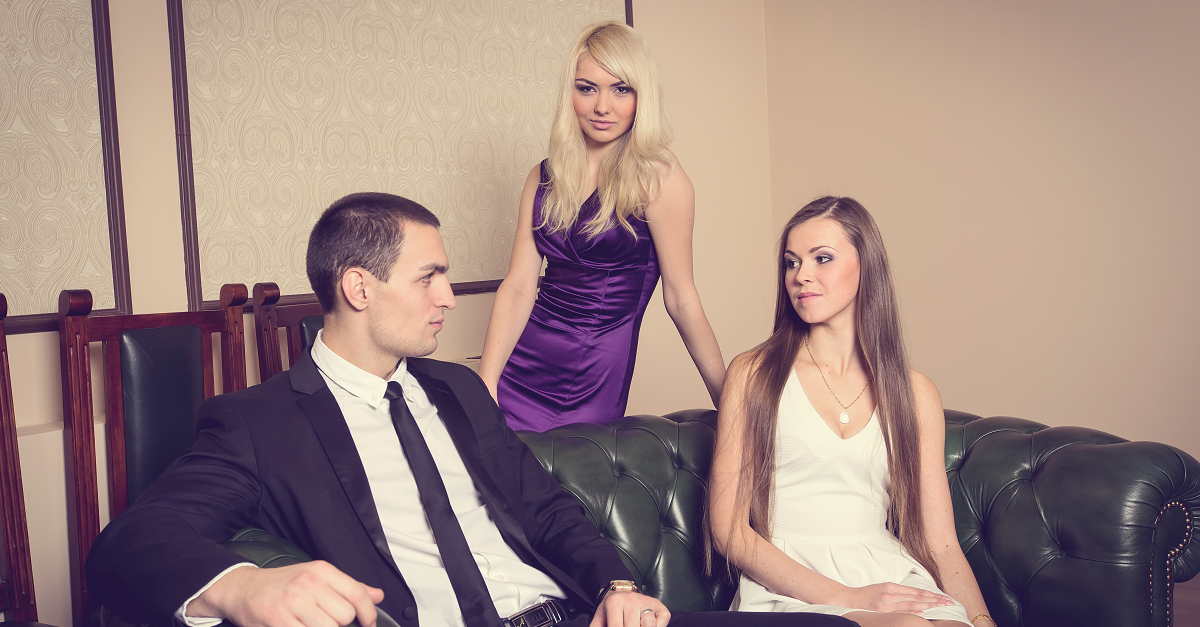 Her name was Kristen White, she said, and she looked like an angel.
Make that a sexy angel.
Her Facebook friend request came out of the blue, and before you could say "Oh, wake the hell up, binky!", she and Paul Rusher were chatting at least 10 times a day, including at night, while his (ahem!) fiancée, Rebecca Lewis, worked the night shift.
Kristen didn't even hit him up for money.
Why would she? She was the 26-year-old daughter of a Californian millionaire.
California! Wow. He'd always dreamed of traveling the world…
No problem, Kristen replied: she was due to inherit a ton of money. They could go on a trip – together.
How romantic.
There was just one… (OK, I know that you know what's coming) … little… (but for some reason, Paul evidently hadn't been reading Naked Security… or any security blog, I guess) … problem.
Namely, the inheritance was tied up.
In the shares of a Nigerian (OK, stop laughing!) company.
Well. That did it. Paul was already smitten.
He'd just have to get her the £2,000 ($3,100) she needed to fly to the UK to be with him.
Now, you and I both know that Paul was on the brink of being fleeced like the unshorn sheep recently found wandering around burdened with 40.5 kg of Merino.
But this story, unlike far too many other internet scam stories, has one crucial element: a jilted girlfriend with the brains to see that her man was being conned big time.
As the Mirror tells it, Rebecca had noticed that Paul had been growing a bit distant.
She decided to read the messages that her boyfriend had shared with "Kristen."
She was able to do so because she'd set up his Facebook account and knew his password: typically a terrible idea, given that a jilted lover in a case like this could unleash the hell-hath-no-fury-like-this mojo, by posing as you, posting embarrassing things, pestering your friends, or even by setting you up to look like a criminal – say, somebody who sends friend requests to little girls.
But this isn't one of those cases. This is a rare case where a partner knowing her boyfriend's password turned out to be a blessing.
When Rebecca logged in to Paul's Facebook page, it was uh-oh time.
It seems that, despite never having met "Kristen", Paul had declared his love and was planning to spend his future with her.
It's true, he said when confronted. He was leaving her.
So she packed her bags and left the home they shared.
Jilted by a rat boyfriend for an online fantasy? Well, maybe. But that wasn't the end of the story. In fact, Rebecca smelled a rat, and she suspected it had its fangs in Paul.
Even though Paul had treated me so badly, I was still in love with him. I couldn't see myself growing old with anyone else. I had a gut feeling all wasn't as it seemed with Kristen.

So she searched for the term "romance scam" online.
Sure enough, on the first page of results, there she was: "Kristen," looking back out of the screen at Rebecca with all that soulful, millionaire-heiress loneliness.
Surprise, surprise: it turns out that the photo of "Kristen" was actually that of a (completely innocent!) Russian model.
Sad to say, the search results also showed that "Kristen" was two-timing Rebecca's man.
No, wait, make that three-timing. … hang on… OK, make that … ummm…. looks like 20 pages of posts from "Kristen's" "boyfriends", so that would more accurately be "close to the entire internet-timing" Paul.
In fact, the picture of the blonde bombshell was linked to a forum dedicated to "Kristen" and all the men she (or he, or they, who knows?) had tried to separate from their money – though, of course, he/she/they used different names to chat up different men.
Rebecca:
I say she - she could have been a man for all I knew, or a gang of men.
But one thing Rebecca did know – she had to fill in her philandering fiancé:
I knew it was only a matter of time before someone tried to get some cash out of Paul. I had to warn him.
He didn't believe her at first, but the evidence piled up, Rebecca said:
At first, he was in denial and insisted what he had with Kristen was real. But eventually, he admitted she had asked him for £2,000 so she could fly to the UK to be with him – despite the fact her dad was a millionaire.

He'd replied saying he loved her and couldn't wait to see her.
Fortunately, Rebecca got through to him before he sent the money.
When the truth finally sank in, Paul was ­mortified, Rebecca says:
He'd told his friends and parents about Kristen and had to go back and admit she didn't exist. It was embarrassing but I helped him write to Kristen, saying the scam had been rumbled.
Oh no you don't, the scammer, or scammers, replied: we're breaking up with you.
Kristen, or whoever she was, replied straight away, saying she had a new boyfriend and didn't want to be with Paul.
Paul and Rebecca split up in January 2013. Within a few months of his pixel fantasy going up in a puff of silicon smoke, Paul discovered that his feelings for his real-life girlfriend had returned.
So the wedding plans are back on. Paul has had the crazy good luck to have been given a second chance, and he says he's going to hang on to Rebecca for dear life this time.
Well, for the love of Mike, I would certainly hope so. She's a keeper!
Even if you might be dubious about Rebecca Lewis's heart smarts, what with this taking back of a guy who dumped her for a Facebook fiction, you have to give her credit for having cybersleuthing skills.
In fact, she has a few tools in her kit that we often urge everybody to adopt when it comes to fending off online fraud. Namely:
1. Skepticism. Lewis knows full well that people you don't know are strangers, and they're not always who they say they are. There are so many cases where imposters have targeted kids, such as the paedophile who posed as Justin Bieber, or the 22-year-old from New Jersey who posed as a teenager to stalk girls online.
Adults have their own flavors of lying sleazebag fraudsters: cybercrooks who prey on vulnerable love-seekers on dating sites; who convince them they're sending money to needy soldiers; who send bogus emails claiming you'll get a payment just as soon as you first pay a "shipping agent" (known as "advance fee fraud"); or by voluptuous women who, strangely enough, are forced to find love online – presumably because Russia is fresh out of men who like buxom blondes.
And wait just one second – did Paul Rusher's heiress actually claim that her money was tied up in the shares of a Nigerian company?That's not just a red flag. That's a red locomotive dropped off a cliff and accelerated by downdrafts.
Heck, there's even a novel about all of this. (It's worth reading, too.)
Look up from the keyboard every so often, lest one of these frauds land on your head!
2. The ability to perform an internet search. You don't have to be a cyber forensics genius to do a simple search, like Rebecca did, to educate yourself on online scams, or online dating scams, or romance scams.
Note that she could have taken it one step further and done a reverse image lookup search to see where else her fiancé's brand-new gal pal had been hanging out online.
In summary…
Don't be like Paul, willing to believe that a pretty, rich girl you've never met in real life would want to hook up with you.
Be like Rebecca – willing to do a bit of legwork to find out whether something's a bit too good to be true.
Image of love triangle courtesy of Shutterstock.com