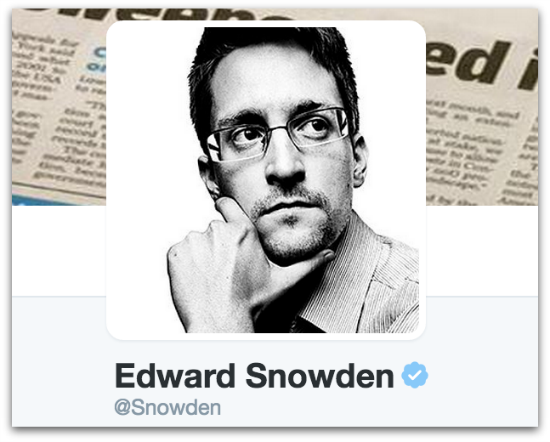 Former hashtag Edward Snowden is now an actual thing on Twitter.
The former NSA contractor-turned-whistleblower has joined Twitter, sending an opening tweet on Tuesday asking, "Can you hear me now?"
Snowden, the man whose revelations about PRISM, XKeyscore and other secretive NSA surveillance programs opened up a worldwide discussion about government surveillance, reached one million Twitter followers after just 24 hours.
Twitter announced that Snowden had joined, tweeting a video showing how the news lit up the network:
So far, Snowden is only following one account.
Can you guess which one it is?
Yes, it's the altogether far less popular (102,000 followers) @NSAGov, the official Twitter account for the National Security Agency, which itself has seen a 7% boost in followers since he joined.
Snowden's decision to join Twitter appears to have been made shortly after appearing on StarTalk Radio with astrophysicist Neil deGrasse Tyson.
In the second part of that interview, published on Friday, the host said he'd unsuccessfully tried to find him on the social network and asked for his handle.
When Snowden said he didn't have one yet, Tyson said:
You kind of need a Twitter handle. So like @Snowden, maybe? Is this something you might do?
Without pausing for thought, Snowden replied:
That sounds good, I think we've got to make it happen. You and I will be Twitter buddies ... your followers will be the internet, me, and the NSA, it will be great.
Snowden's profile has a short bio, saying, "I used to work for the government. Now I work for the public," and notes his directorship of the Freedom of the Press Foundation.
Love him or hate him (a November 2013 poll suggests Naked Security readers generally like him, though not universally), his appearance on Twitter is definitely significant.
The man himself has only posted seven tweets so far, but his mere presence on the micro-blogging site is likely to further stoke the debate on privacy, his own actions and the nature of the documents he shared.
Some call him a traitor, others say he is a patriot, but Snowden has raised key questions about personal freedom, privacy and the power of the state, and his signing up for Twitter is only likely to fuel the debate even further.
As Reuters reports, interaction with Snowden's account is already massive – over 100,000 people retweeted his opening post.
Views on his presence on the service are mixed, though analysis of a representative sample of Twitter accounts would appear to suggest more in favour than not, with 1,109 tweets being deemed positive versus 156 that were considered to be negative.
One of Snowden's first tweets referenced his former employer's home on a US Army base in Maryland, implying the NSA will be paying attention:
Meanwhile, a thousand people at Fort Meade just opened Twitter.
Snowden, who lives in Moscow after being granted asylum by Russia after the US charged him with espionage, bagged his now-verified @Snowden account after contacting Twitter.
According to the American Civil Liberties Union, which represents Snowden, the account had previously belonged to someone else but not been used for three years, prompting Twitter to agree to hand it over.
His lawyer, Ben Wizner of the ACLU, said Snowden, unlike some celebrities, would be in complete control of the account.
There's no word yet on whether Snowden will also be signing up for Facebook, but one thing that is for certain is that he won't be returning home, at least not until the US can offer him a 'fair trial'.
So, in the meantime, fans of the ex-spook are limited to communicating with him in 140 character bursts, unless they happen to be attending IP EXPO Europe on Wednesday, 7 October, where he will be delivering a keynote via satellite.
If you go, do keep a look out for Sophos at booth AA22, as well as our own James Lyne, Global Head of Security Research, who will be delivering a keynote entitled "The Six Habits Of Highly Successful Cyber Criminals" on Thursday, 8 October.
Image of Edward Snowden via Twitter.