He went by the name of Christian Anderson on the online dating site, and what a sweet fairytale he spun.
He was a well-to-do engineer working in the oil industry, he said. He was divorced, with a daughter, having lost his father and sister to cancer.
Within weeks, they'd met in person.
He confessed that he'd fallen in love and wanted to leave the project he was working on in Benin, Africa, to come home to her.
But first – there's always a "but," isn't there? – he needed "special machinery" to finish the project.
He'd need upwards of £30,000 to pay import duty on the machinery. Could the love of his life find it in her heart to help him?
Fast forward to January 2015 and the end of this romance scam, with its numerous iterations of "plus then too there's this cost", and you arrive at a woman in her 40s from Hillingdon, UK, telling ActionFraud that she'd been bilked out of an astonishing £1.6 million (about $2.4 million).
Her case was referred to London's Metropolitan Police cyber crime and fraud team, FALCON.
The Met last week said that the money got swindled out of her not only by the online dating Lothario but also by a whole gang of crooks posing as his "associates."
Two of the gang, 31-year-old Ife Ojo, from Peterborough, and 43-year-old Olusegun Agbaje, from Hornchurch, Essex, have pleaded guilty to conspiracy to defraud.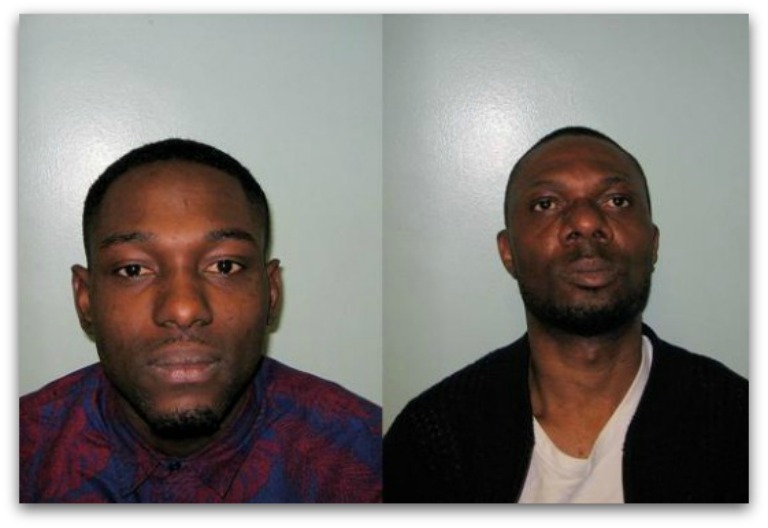 According to news reports, they've been remanded in custody, their case adjourned until 8 January 2016.
According to the Met, the victim paid over £30,000 into the business account of somebody who posed as "Christian Anderson's" personal assistant: a man who was allegedly using the name Brandon Platt.
That £30,000 wasn't good enough. Anderson wanted more cash.
The requests ranged from £25,000 for a police fine to thousands of pounds to free up inheritance money left by his mother, who lived in Cape Town.
Anderson told his mark that he'd use the inheritance to set up a life with her.
The fees to free up the money included costs for holding it in a vault in Amsterdam and $170,000 to pay for what the Met said was a fictional "anti-terrorist certificate" so that the money could be deposited at a bank.
The woman was, more or less, convinced. She was looking for a house that they could buy.
She met with someone claiming to be Anderson's lawyer. She even travelled to an office in Amsterdam to meet a man calling himself Dr Spencer, who was supposedly responsible for holding the money in a vault.
The victim paid the £1.6 million into numerous bank accounts between March and December 2014. From there, the crooks transferred the funds into personal accounts, including £35,000 to the bank accounts of Ojo and Agbaje.
Still, the victim had doubts. But every time she asked Anderson for proof, he either sent false documentation or sweet-talked her, coming up with excuses for why he couldn't give her evidence.
FALCON investigators found what they identified as that sweet talking: a financial investigation led to Agbaje being one recipient of the stolen money, so they went to his home address and found him with Ojo.
Upon arresting the pair and searching their homes, they found a laptop at Ojo's home that contained records of conversations with the victim, as well as a memento book that seems to have been sent to Anderson by another victim and a copy of the book The Game.
The Met provided these excerpts from emails that "Christian Anderson" sent to the victim:
I know our relationship is still young, but I am really trying to hang on here and after the contract we have all the time in the universe together.

I called you this morning for us to have a sweet good Friday together and you did a good job in letting me feel down.

But most times when your brain tells you things, it's all because of the hurts you had in the past and insecurities.
On a related note, most times when your brain tells you things about online cutie pies, we really, really hope it's saying DO NOT SEND YOUR INTERNET LOVER EVEN ONE SLIM DIME.
Fortunately for a North Wales man whose online friend convinced him to strip in front of a webcam, his brain recently told him not to pay the £6000 she then tried to sextort from him.
As the BBC reports, the fraudsters are believed to be in Africa, though the police admit that it's extremely difficult to trace a scam like this.
Speaking anonymously in an interview, the man said she looked like a local woman to him:
I could see her clearly. She looked like a woman from Wales - a white woman with dark hair. We never spoke to each other even though I could see her. She always messaged me.
The day after he stripped, the con artist got in touch and said that she had something to show him.
She played the recording of the man stripping and warned that if he didn't cough up the £6K, she'd post it to Facebook and claim that he'd stripped in front of an 8-year-old girl.
He refused. She posted it. He called police.
The woman had originally approached the man online. Details about where, exactly, weren't provided, but we know that romance scams – and sextortion attempts – don't just originate on online dating sites.
Detective Chief Inspector Gary Miles of FALCON had this to say about the case of "Christian Anderson", but of course it pertains to all sorts of sex and romance scams:
Any stranger who approaches you on a chat site, via email or any other way could potentially be a fraudster. In a recent case, a woman was defrauded of £250,000 after a suspect relentlessly tried striking up a conversation on Skype. She eventually answered and the scam progressed from there.
The Met offered these tips to anybody who's talking to a potential partner online:
See through the sob stories.
Con artists will tell you tales to pluck at your heartstrings, with a view to gaining your trust and sympathy. Sometimes they ask for money to help them through a difficult situation. These are lies to get you to send them money.
Don't be fooled by a photo.
Justin Bieber probably doesn't need to chat up strangers to get a date, so is that really the Biebster contacting you? Anyone can send a picture to support whatever story they're spinning. Scammers often use the same story and send the same photo to multiple victims. You may be able to find evidence of the same scam posted on anti-fraud websites by other victims: here's how to do a reverse image search on Google, for one.
Keep your money in your bank account.
Never send money abroad to somebody you've never met or don't know well, no matter how strongly you feel about them. No one who loves you will ask you to hand over your life savings and get into debt for them.
Question their questions.
Suspects will pay you a lot of compliments and ask you a lot of questions about your life, yet tell you very little themselves beyond a few select tales. Never disclose your personal details, such as bank details, which leaves you vulnerable to fraud.
Don't keep quiet.
It can be embarrassing to admit that you've been taken in, but not reporting this type of fraud plays right into fraudsters' hands. Sometimes scammers ask you to keep your relationship secret, but that's just a ruse to keep you from talking to someone who'll realize you're being scammed. If you think you're being scammed, stop communicating with the fraudsters and report it to police immediately.
Image of internet dating scam courtesy of Shutterstock.com. Image of Ojo and Agbaje courtesy of Metropolitan Police.