A viral Facebook post is making the rounds showing an image of a dinner table shaped like a Nazi swastika, alongside claims that Swedish furniture giant IKEA is selling the offensive item in its 2016 catalog.
It would be a shocking story if it were true, but it's a complete hoax.
The hoaxers claim the 'Hadolf' table is being sold for 88 euros ("88" is a code neo-Nazis use to represent "Heil Hitler").
Viral social media posts like this are hard to track back to their original source because anyone can share the content as their own.
A little searching on Facebook turns up one version of the hoax posted 12 December 2015 by a user in Germany, which has been shared almost 12,000 times and "liked" by 29,000 people.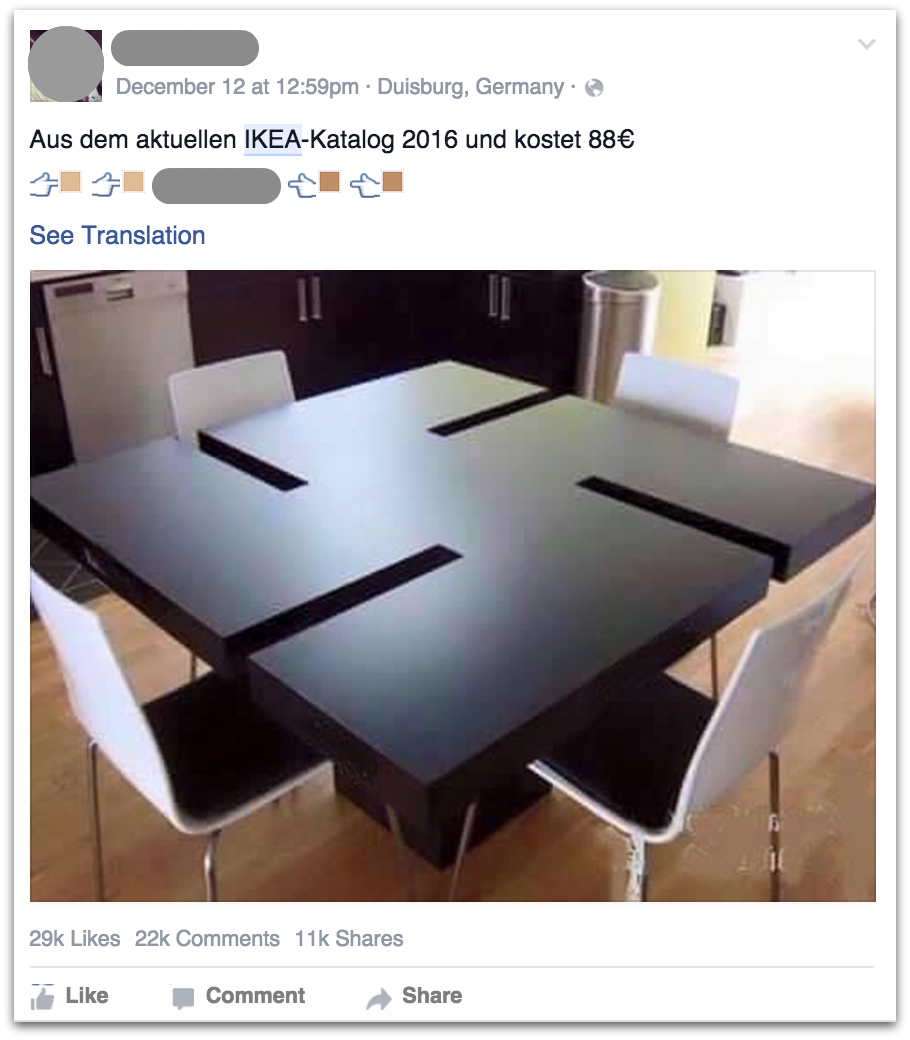 The hoax was first reported on Monday, 14 December, by the German newspaper Berliner Zeitung, whose story was picked up by media outlets around the world.
Berliner Zeitung reported that the viral Facebook post was first seen in Italy before spreading to Germany.
In a statement to Berliner Zeitung, an IKEA spokesperson said the rumor is absolutely false:
It is of course clear that such a table is not part of our program, either in Italy or anywhere else.
According to the Daily Mail, IKEA is also threatening legal action, if it can determine the source of the hoax.
Any company would hate to have its reputation tarnished by association with Nazism, but IKEA has been stung by this kind of rumor before. Another hoax that spread on Facebook in 2013 claimed to show a photo from inside an IKEA store with a swastika wall decoration.
It might seem like a bit of harmless fun but chain letters and social media posts that spread misinformation can and do cause damage.
We've seen countless hoaxes on Facebook, such as: unfounded rumors about the Talking Angela children's app containing secret child predators; a viral post claiming Mark Zuckerberg is giving away his riches to regular folks who share the hoax with their friends; and another claiming that you need to copy, paste and share a post to protect your profile from changes in Facebook's privacy policy.
Please don't spread hoaxes, even for a laugh.
At best it's spreading bad security and privacy advice, and at worst it thoughtlessly tarnishes the reputations of real people by casually associating them with deeply offensive things like Nazism or child abuse.
If you want to stay safe on social media and find out about more hoaxes like this one follow us on Facebook.
Image of IKEA sign courtesy of JuliusKielaitis / Shutterstock.com.